When will 'Pokémon Go' update with the rumored new daily rewards system?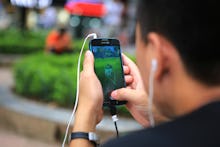 Thanks to the folks over at Pokémon Go Hub, we know the next update Pokémon Go is likely to introduce: a new daily rewards system.
Next Pokémon Go update will likely add daily rewards system
After datamining the latest patch to the Android version of Pokémon Go, Pokémon Go Hub found some bits of code that reference new quest types that look as though they'll reward players for logging in and playing on a daily basis. Here's the important bit of code that was uncovered:
QuestType
As you can see, it looks like Pokémon Go will provide some kind of bonus for a player's first catch of the day and for the first Pokéstop they interact with each day. There's one other daily quest type, listed as "Unknown," so the jury's still out on what that could be.
In terms of what players will receive for completing these daily quests, Pokémon Go Hub found references to egg incubators — the items that let players hatch eggs — in the code. But it's still unclear whether that will be the only reward or one of many possible rewards.
This kind of update makes a lot of sense from Niantic's point of view. Since its launch, Pokémon Go's monthly player numbers have declined significantly — though it still boasts millions of monthly players — so Niantic is likely looking for ways to keep players engaged over a long period of time to prevent those numbers from declining further. Rewarding players for playing on a daily basis is a smart and easy way to do just that.
No word on when this update will actually go live, but sometime in the next couple of weeks is probably a safe bet.
For you skeptics out there who question whether this finding is legit, Pokémon Go Hub has a pretty good record of predicting these updates through datamining: For example, they accurately predicted the Buddy Pokémon system that's currently in the game through a similar process.