Presidential polls Tuesday, Oct. 25: Clinton lead over Trump narrows, but it's still large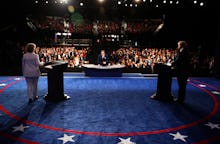 The race has tightened — just a bit. 
The RealClearPolitics average of polls puts Hillary Clinton about five percentage points ahead of Donald Trump. And the Republican has again reached about 40% of the vote. Clinton's polling lead has dropped about two percentage points in the past week. 
But this does not mean Clinton's lead has evaporated. A five-point national lead in the four-way presidential race is still large and much wider than Barack Obama's lead on Mitt Romney at this point in 2012. 
National poll results differ on size of Clinton's lead
Further, Tuesday's polls delivered a broad range of results. Three of the new polls are tracking polls, which means they consistently survey the same voters. (Read more on the folly of such surveys in Monday's polling update.) 
The IBD and Rasmussen tracking polls each give Clinton a statistically insignificant edge over Trump, while the ABC News tracker finds Clinton with a whopping 12-point lead.
New CNN/ORC and NBC/Survey Monkey polls each gave Clinton a 5-point lead. The trends also show a decline in support for the third party presidential candidates. Combined support for Libertarian Gary Johnson and Green Party presidential candidate Jill Stein has declined by more than two points in the past month. Polls show Johnson is still on track to draw more than 5% of the vote, setting Libertarians up for federal funding in 2020. Stein may have difficulty drawing more than 1 to 2% support.
Swing state polls
Similar to the national trend, Clinton's lead in some key swing states has narrowed. Her margin in Florida and North Carolina is smaller than her national lead. And Trump leads narrowly in Ohio. 
But it should be repeated: A five-point national margin for Clinton in what should be a very competitive race for Republicans is not a small lead.