Will the Obamacare rate hike help Donald Trump? Probably not, because he's Donald Trump.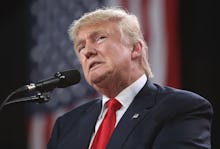 The federal government announced on Monday that rates for health plans under the Affordable Care Act — President Barack Obama's signature health care law — will rise an average of 25% next year, making the cost of health care more expensive for some Americans.
News of the rate hike came just two weeks before Election Day, assuring that Republicans will focus strongly on the issue as they make their final case to voters on why Donald Trump should be handed the keys to the White House.
But as Republicans publicly cheer what they see as a tailor-made closing pitch for voters to choose their party at the ballot box, polling shows Trump is not in a position to capitalize on the news to add support to his flailing presidential bid.
Throughout the race, Trump has railed against Obamacare, vowing to repeal the law on his first day in office.
However his plan to fix it — which would give Americans health savings accounts and the ability to buy insurance across state lines — is unlikely to lower the cost of insurance. If anything, removing the mandate that all Americans buy health insurance would raise costs, analysts say. Without a mandate, younger and healthier Americans would likely not purchase insurance, leaving an older and sicker pool of people that are more expensive to insure.
Hillary Clinton, on the other hand, has proposed offering a tax credit to Americans to lower the cost of health care premiums.
Polling has found Americans trust Clinton's proposals more than Trump's.
While a Fox News poll released earlier this month found nearly half of voters want to repeal Obamacare, voters still said Clinton would be the better candidate to fix the health care system by a stunning 13-point margin.
The Fox News poll found 54% of voters said Clinton would do a better job on health care, while 41% said Trump would be better on the issue.
An Associated Press-GfK poll from September found similar results, with 42% of voters saying they trust Clinton to handle health care, as opposed to just 29% who said the same of Trump.
To be sure, the rate-hike news could narrow that gap — especially if the number of voters who want to repeal the law grows.
But in order to significantly grow the number of voters who want to repeal the law, as well as to overtake Clinton on the issue of health care, the rate-hike news would need to stay in the news and at the top of mind for voters for the next two weeks.
Trump's inability to stay on message will make it hard — if not impossible — to do that in the remaining 14 days of the contest.
Time after time, Trump has stepped on his own message — including over the weekend, when he turned a speech laying out the first 100 days of his potential administration into a revenge campaign against the nearly dozen women who have come forward to accuse him of sexual assault.
He even stepped on his message Tuesday morning during an appearance at a hotel he owns in Doral, Florida.
Trump suggested his employees have "tremendous" problems with Obamacare.
His comment suggested he either doesn't provide health care to his employees, or the health care he provides isn't affordable and forces them to use a cheaper Obamacare alternative.
Or, he has no idea how Obamacare works.
History also suggests Trump won't be able to capitalize on Obamacare's troubles in the final days of the race.
In the Virginia gubernatorial race in 2013, Republican Ken Cuccinelli was trailing Democrat Terry McAuliffe by a wide margin. Troubles with healthcare.gov in the final days of the race helped Cuccinelli narrow the gap, losing to McAuliffe by less than three points.
Still, it wasn't enough to carry Cuccinelli to victory.
While Trump's hopes for the presidency are unlikely to be aided by the Obamacare rate-hike news, down-ballot Republicans are hoping it will aid their chances at victory in November.
Some Republicans are already making the argument that they'd be a "check" on Clinton's presidency — basically an admission that Trump is not going to win but that voters should pick them to thwart Clinton's agenda.
Democrats, however, are countering that by tying down-ballot Republicans to an unpopular Trump — telling voters they should punish their elected officials for not standing up to the bombastic businessman whose rhetoric has offended large swaths of the American electorate.
In 14 days, we'll see which side won that argument.