Report: High school athlete in Mississippi threw a noose around a black teammate's neck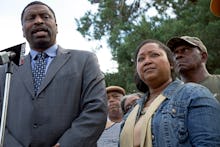 The Mississippi chapter of the NAACP is calling on federal authorities to investigate an anti-black incident in Stone County High School in Wiggins, Mississippi. 
On Oct. 13, a black Stone County High football player allegedly had a noose thrown and yanked around his neck by a white teammate, ESPN reported. The player, who is a sophomore at the school, didn't suffer any injuries, but is still shaken by the incident. 
Derrick Johnson, the president of the Mississippi NAACP chapter, told ESPN that when the victim's mother, Stacey Payton, reported the incident to the county sheriff, she was discouraged from filing a report.
"We're calling on federal investigators to view this as a racial hate crime," Johnson said in a press conference on Monday. "No child should be in fear of going to school. No child should be walking down the hall or in the locker room and be accosted with a noose around their neck. This is 2016, not 1916," 
Johnson also said there were three white students involved and the victim's parents were not told of any consequences or punishments given to them. He is calling for the students — who, according to Johnson, were brandishing Confederate battle flags on their cars — to be expelled. Mic reached out to Stone County High School administrators but has not yet heard back.
"Allowing students to commit blatant hate crimes without severe consequences sends a message to students that their safety and well-being are not valuable enough to be protected," the NAACP said in a statement Monday, ESPN reported.
John Feaster, the head coach for Stone County's high school football team, told ESPN the incident happened in the locker room before practice. He also said one student, rather than three, was responsible for the attack.
Feaster, who is also African-American, said he reported the incident to the administration and dismissed the student responsible for the attack from the football team. 
"The individual that was responsible hasn't been with our team since the incident," Feaster told ESPN. "I just want it understood, it could have been the biggest superstar and he would have been gone. I don't care who it is — if you do something like that, you can't be part of our team."