YG drops "One Time Comin'" dedicated "in loving memory to the victims of police brutality"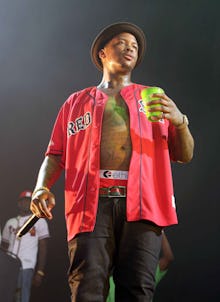 When the culture needed an artist to step up and speak to all the bullshit facing black America, YG answered the call. The Compton rapper wasn't the MC many expected to take on the duty of picking apart Donald Trump's racist rhetoric or decrying police brutality; however, with every track he drops, he adds another revolutionary credential to his name.
Midway through his Fuck Donald Trump tour, YG unveiled a new track, "One Time Comin'," his first single since the release of Still Brazy, YG's second studio album, back in June. As the cover art reveals, the song is dedicated "in loving memory to the victims of police brutality."
The raps are blunt, devastatingly so, describing the fears of "driving while black" and facing a potentially trigger-happy cop. It unwinds over a sparse, police siren-like beat that matches the ominous stories YG tells.
The whole first verse seems to take place in the immediate 15 seconds after YG notices he's being pulled over by the cops, which he refers to as the "one time." He runs through a mental checklist, stashing his firearm, putting his hands where the cop can see them, because "you know how the law get," YG raps, "'cause they might pull a gun on 'em."
During the song's bridge, YG taunts an officer trying to flaunt his badge, thinking he's "hard" for treating black lives as if they don't matter.
You think you hard with your badge huh?
As YG told Billboard in a piece published in June, his decision to start to speaking on police brutality and political movements of the day was a simple one. He saw violence and misunderstanding in the culture and no artists standing up to face it.
"It was just me knowing what's going on in the culture and me being a human and really feeling some type of way," he said. "I feel like, 'Damn, ain't nobody doing nothing, saying nothing big about none of this shit.' The friggin' rap game is watered down so I decided to speak up on the album."
Since Still Brazy's release, we've seen many other artists step up to face the issues: T.I. released the Us or Else EP of protest anthems, Jay Z released "Spiritual" his most politically incisive meditation on police brutality to date, Common released his "Black America Again" single. Each artist's perspective feels necessary and unique, and as more rappers keep pitching in to flesh out 2016's protest canon, hip-hop won't stay watered down for long.
October 25, 2016, 12:27 p.m.: This story has been updated.