The price of homes in these 10 US cities soared in 2016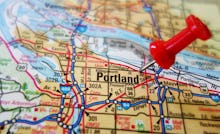 If the rent is too damn high and buying a home seems an impossible dream, it is not in your head.
Home prices across the United States climbed more than 5% over last year, according to new data released Tuesday by S&P Dow Jones Indices, in collaboration with CoreLogic Case-Shiller Indices.
Across the country, housing prices rose by 5.3% between August 2015 and August 2016, while costs in the 20 largest U.S. cities grew 5.1%.
Prices are, in fact, back near record levels set in the summer of 2006 — before the housing bubble burst.
If you purchased a home last year in one of the 10 cities below, you've gotten an above-average return on investment.
The median home values below are from the Zillow Home Value Index, which calculates the median costs for different cities at different times: Mic used October 2016 prices.
Now, don't despair if these prices below are well out of your range. Know that homebuyers in certain cities — Minneapolis and Baltimore, for example — and renters in other metropolises have seen dips in the cost to buy or rent a home. Plus, no matter where you live, you can always try to bargain down your rent.
10. Los Angeles, California
Median home value: $591,000
12-month rise in home prices: 5.8%
Yes, there's the glitz and glam of Hollywood. But the city has a softer side, too: It's developing a reputation for good air quality and effortless access to nature. Outdoor activities like kayaking or hiking are at your doorstep, making it that much easier to unwind on weekends. 
9. San Diego, California
Median home value: $543,000
12-month rise in home prices: 5.8%
If you want both beach and city life, San Diego might be the place for you. There are sunny shores and other boons, such as the world-renowned San Diego Zoo. But it's also got a serious side: The city is home to about a hundred breweries. So, whether its polar bears or pilsner beers that interest you, San Diego offers attractions for all ages. 
8. Charlotte, North Carolina
Median home value: $174,000 
12-month rise in home prices: 5.8%
Charlotte is known by many as being a pretty "chill" place. Having both the ocean and mountains easily accessible might have something to do with it. It's also a Goldilocks-sized city — not too small, not too big. And the unique vibes of each neighborhood make it a fun place to live.
7. San Francisco, California 
Median home value: $1,110,000 
12-month rise in home prices: 6.7%
San Francisco has become one of the most expensive cities in America when it comes to housing (thanks, Silicon Valley). But, despite becoming a home to tech millionaires, it still has the vestiges of its quirky and bohemian roots. 
Then, there's the fact that it's on the water, which means lots of shoreline. Oh, and there's a really cool bridge. 
6. Miami, Florida
Median home value: $296,000
12-month rise in home prices: 7.1%
Well, there's the obvious starting point: the sunny beaches. Miami is known more for its party scene than it is for being a rat race. So, if you're very career-driven, this might not be the best culture for you. Also, the traffic is supposed to be a little nuts. But those beaches (and all those beach bods): not a bad place to hang after a long day at the office. 
5. Tampa, Florida
Median home value: $165,000
12-month rise in home prices: 7.6%
Since inventing the Cuban sandwich, Tampa has been branching out in its culinary pursuits, promoting its food as a selling point for tourists. It's affordable and relatively near the beach, but it is also humid AF. 
4. Dallas, Texas
Median home value: $154,000
12-month rise in home prices: 8.1%
When it comes to the food scene, Tampa is like the underdeveloped younger cousin of Dallas. And Dallas does not play around: It seemingly generates a new food trend every other day, whether it's fried peanut butter and jelly and banana sandwiches or chicken-fried bacon (you might be noticing a trend here). But the food is not all artery-clogging — and the city is home to the country's biggest farmers' market.
3. Denver, Colorado 
Median home value: $357,000
12-month rise in home prices: 8.8%
It's been a good year for Denver: U.S. News & World Report nominated it as the No. 1 place to live in its 2016 ranking of U.S. cities. 
No wonder — it's super chill: Right at the base of the Rocky Mountains, Denver is perfectly situated for snowboarding and skiing getaways. And don't forget its legalization of recreational cannabis. 
2. Seattle, Washington
Median home value: $597,000
12-month rise in home prices: 11.4%
Between 2013 and 2014, Seattle was the fastest growing city in America, which means a higher demand for housing. And having Amazon based there has certainly helped drive up prices. 
As for actually living there? Yes, it rains a lot. But there's a reason Frasier Crane lived there for so many years. For starters, there's Pike Place Market — you'll see how and why it became so famous upon first visit. And there's ferries galore (one thing Grey's Anatomy might have realistically captured).
Seattle has also been described as "a bastion of progressive lefty-ism," where people aren't afraid to take to the streets.
If the market, ferries and progressive politics weren't enough, Seattle's another city with a well-earned reputation for having an awesome, inventive and superior food scene. 
1. Portland, Oregon
Median home value: $397,000
12-month rise in home prices: 11.7%
If you like quirky and earthy, you'll like Portland. Public nudity laws (or a lack thereof) are just one sign of the city's free-spiritedness — there's also its farm-to-table culture and "legendary music scene."
But, as the spike in prices indicates, Portland is no longer an adorable secret of the Pacific Northwest — word's gotten out and Californians and other out-of-towners have flocked to Portland in search of the quintessential hipster lifestyle. This has made property more expensive and developers keep piling on to get in on the action. 
Now some people find the city's trendiness verging on obnoxious, which is your consolation prize if you have been priced out.
Truly serious about buying a home? Here's how to budget.