Hillary Clinton polls: Latest polls give Clinton clear lead over Donald Trump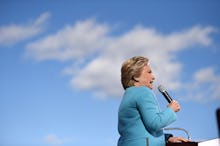 Despite some tightening in national and state polls, Hillary Clinton still holds a commanding lead in the presidential election two weeks before Election Day. Recent polls in Texas, a longtime Republican stronghold, suggest Clinton could makes gains Democrats have not seen in decades. 
National polls
In the four-way presidential race, Clinton holds more than a five-percentage-point lead over Donald Trump. Clinton has held more than 44% of the vote in polls for the past two weeks. Trump has struggled to crack 40%. Two tracking polls, IBD/TIPP and Rasmussen, that had been among the most favorable for Trump now give Clinton a 1-point lead.
State polls
Here's who holds the lead, according to RealClearPolitics, in states across the country. 
In some states, the race has gotten interesting. Two recent polls in Texas put Clinton behind by only 3 points; Mitt Romney won that state by 16 points. In the home of former Republican presidential nominee Sen. John McCain, Arizona, Clinton has a small lead. 
Clinton continues to see an improvement in her favorability rating leading up to Election Day. The Democrat is now viewed unfavorably by about 53% of the country and viewed favorably by about 43% of the country. That's a 15-point net improvement from Trump's numbers and among the best ratings Clinton has seen in the past year. 
The electoral map remains extremely strong for Clinton. With the high likelihood of Clinton victories in a number of states, she is projected to have 272 electoral votes clearly or leaning in her favor — enough to win the White House outright. As long as Clinton locks down the states she leads in now, Trump will have no path to blocking her victory.