'Gilmore Girls' Netflix revival trailer: The first look at 'A Year in the Life' is here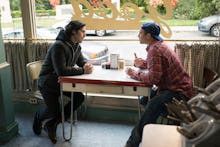 Brace yourself, Gilmore Girls fans: The wait is almost over. The return to Stars Hollow — in a Netflix revival years in the making — is just a month away.
Ahead of the four-part limited series Gilmore Girls: A Year in the Life's release, Netflix shared the show's first official trailer. The clip includes our first glimpses at the show's cast since 2007. Despite all that time, Stars Hollow seems very much the same.
We'd previously seen a short teaser for the revival series, with a scene written just for an announcement of the series' release date. But this is our first look at actual A Year in the Life footage.
Initially tentatively titled Gilmore Girls: Seasons, the event series will be split into four 90-minute installments, each following the titular Gilmore girls (Lorelai, Rory and Emily) in a different season, all in one calendar year.
Gilmore Girls: A Year in the Life hits Netflix Nov. 25. Watch the trailer below.