Rihanna and Missy Elliott take to Instagram to find former backup dancer Shirlene Quigley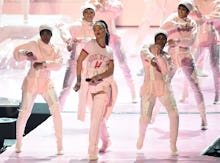 Rihanna needs your help, internet.
On Monday, the singer took to Instagram to announce the disappearance of Shirlene Quigley, a 32-year-old woman who has worked as a backup dancer for Rihanna, Beyoncé, Missy Elliot and Jamie Foxx, among other celebrities.
"This beautiful soul and former dancer of mine is MISSING!!!" Rihanna wrote in her Instagram caption. "My heart aches thinking of how heavy this is on all who love her! If anyone has seen or has any information about @shirlenequigley's whereabouts ... PLEASE CONTACT the North Bergen Police Department 201 392 2100!!!"
Quigley's landlord saw her leaving her apartment in North Bergen, New Jersey, around 3 p.m. on Saturday, according to USA Today. She was reportedly wearing a pink top, jeans and heels at the time. Her cell phone was later found in New York City in a Chelsea bridal shop, while her car turned up outside a Hertz rental location in Midtown Manhattan. According to NBC 4 New York, Quigley was last seen at Port Authority around 1 a.m. on Sunday, boarding a bus. Her father grew suspicious after she missed her daily call to him. 
"I just want her to come home, or if someone has her to let her be," he told NBC 4. "She's everything to me. She's why I live." He also noted that she had recently become more invested in religion than usual, seeming "euphoric" to him, and that he had overheard her say something odd to a friend: 
"Get ready, it's about to happen and I'm going to need you to sub for me," was the gist of the comment, according to NBC 4. 
Rihanna was not the only one of Quigley's former employers to sound the alarm. On Monday, Missy Elliot also posted a plea to Instagram, asking for "help from the whole dance community to spread the word" about Quigley's disappearance.
Update: Shirlene Quigley has been found safe and is currently "safe and being treated at an undisclosed location," according to the North Bergen Police Department's Twitter account. 
Missy Elliott was among the first to celebrate, replying to the police department's tweet to thank everyone for their prayers.
"North Bergen Police Detectives have contacted her father and he is in route from Los Angeles to reunite with his daughter," the North Bergen Police Department elaborated on its Instagram. "We are very pleased with this outcome."
October 25, 2016, 6:04 p.m.: This story has been updated.