800,000 Haitians in "dire need" of food after Hurricane Matthew, UN warns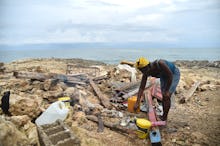 Weeks after Hurricane Matthew slammed into Haiti, the Caribbean country is facing a deadly food crisis. 
According to a statement released on Monday by the United Nations Food and Agriculture Organization, in partnership with the U.N.'s World Food Programme and the Haitian government, the devastation caused by Matthew has left 1.4 million people in Haiti in need of "food assistance." And for 800,000 of them, the need is urgent.
Hurricane Matthew hit Haiti in early October, leaving more than 1,000 dead, causing widespread damage to property and, according to this week's statement from the U.N., destroying fruit trees and other sources of food. According to the U.N., in the Department of Grande-Anse, one of Haiti's 10 departments, 50% of the areas livestock was lost and "agriculture has been virtually wiped out." In the Department of Sud, 90% of fruit and forest trees were "severely damaged."
All along Haiti's southern coast, the ability to fish for food "has been rendered impossible" since boats and fishing supplies were destroyed in the storm. 
"There has been a massive loss of crops in some areas of Grand-Anse up to a 100% loss, just everything is gone," Alexis Masciarelli, a World Food Program worker in Haiti, told ABC News. "What's striking is that all the food trees are gone, a vast majority of them. The coconuts, the bananas, the mangoes. ... Bananas usually grow back in about a year, but coconut and mangoes take years to come back."
According to the U.N.'s statement, the country will require an "additional" $56 million in the next three months to assist with the food shortages. 
"Local products on the markets will soon be depleted and we need more funding in order to continue food distributions to help 800,000 people in need of food aid which is more than urgent," Miguel Barreto, the World Food Programme's regional director in Latin America and the Caribbean, said in a press release on Monday. "The winter season crop is fast approaching. Agricultural producers have lost everything."