Report reveals the 2012 Harvard men's soccer team ranked female recruits on attractiveness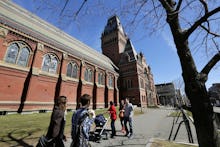 This week, a member of Harvard University's 2012 men's soccer team came forward with what he and his teammates referred to as a "scouting report," a nine-page document wherein the men's team ranked and evaluated the attractiveness of that year's female soccer recruits.
According to the Harvard Crimson, the report, which had been forwarded to the entire team, included photos of each female soccer player, a numerical score and the sex position the author thought best corresponded to her looks and personality. 
"She seems relatively simple and probably inexperienced sexually, so I decided missionary would be her preferred position," the Crimson quotes from one description. The report's author designated other women "doggy style" and "cowgirl," while writing simply of another woman: "Yeah... She wants cock."
The Crimson wrote that the evaluations seemed to be a "yearly team tradition," though current team captains declined to say whether there's truth to that claim.
Either way, athletics director Robert L. Scalise, who said he was hearing about the scouting report for the first time, said once is enough. He called the document "totally inappropriate and disturbing," calling it a drag on the "learning environment" to which Harvard aspires.
Still, Scalise seemed to suggest that the sexist and sexually explicit comments were somewhat inevitable. He told the Crimson, "Whenever you have groups of people that come together there's a potential for this to happen."
And, living in a post-"locker room banter" world, Scalise said the team's behavior is merely symptomatic of a larger social ill. 
"We're not insulated from these types of things," he said. "These things exist in our society. Society hasn't figured out a way to stop these things from happening."
Put another way: Men haven't figured out a way to stop objectifying women.
Nevertheless, current men's soccer coach Pieter S. Lehrer told the Crimson he believes there are steps he can take with the team to prevent similar problems from happening in the future.
"I will take this opportunity to address this document from 2012 with my current athletes," he said in a statement. "I hope their seeing how offensive and hurtful this is will be a valuable lesson for everyone involved with this program."