Snapchat has one group to thank for its early success: women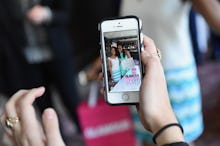 Snap Inc., formerly known as Snapchat, is working on an initial public offering that could value the company at $25 billion. To put that into perspective, Twitter had an IPO valued at $24 billion. Snapchat surpassed Twitter in daily active users, Bloomberg reported in June. Wedbush Securities analyst Michael Pachter told Fortune that this valuation is likely attributed to "phenomenal growth." Guess who Snap has to thank for that? Largely, us ladies. 
Snapchat CEO Evan Spiegel said in November 2013 that 70% of the app's users were female. Fortune pointed out the statistic on Tuesday as a reminder that while the user base has since evened out, the early adopters were predominantly women. 
AdWeek reported in April that beginning in January 2016, there was a marked increase in female Snapchat users aged 18 to 34 compared to their male counterparts. As of March, 48.6% of women said they had used the app in the last month compared to 29.1% of men.
As Snap gears up for its anticipated impressive IPO valuation, let's take a moment to thank the ladies for their unyielding support.
Oh, and the brands.