Baltimore's spy plane program was funded by wealthy philanthropists inspired by 'Radiolab'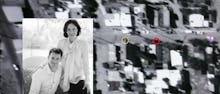 Public radio has the power to inspire people, change lives and, as it turns out, inspire wealthy benefactors to prop up secret surveillance programs.
According to emails obtained by the Baltimore Sun, a controversial police program that used spy planes to create detailed maps of Baltimore was only possible because a family of billionaires was inspired by a radio show to fund the program entirely.
The Baltimore Police Department was first approached in 2014 by Persistent Surveillance Systems president Ross McNutt, who reached out to offer his services. McNutt is an experienced astronautical engineer who built a powerful, plane-mounted camera called Angel Fire for the Pentagon, and is attempting to build a business from his innovations.
But Baltimore didn't bite.
"Unfortunately Baltimore at this time will not be utilizing [wide area surveillance], for the Star Spangled Spectacular or any other event," BPD Lieutenant Sam Hood wrote to McNutt in the emails, according to the Sun.
And then a year later, two billionaire philanthropists named Laura and John Arnold stepped in and offered to pay for the program with money from their philanthropic foundation — a move that finally got Baltimore police on board. The Arnolds first heard about the potential of McNutt's technology from an episode of the radio show and podcast Radiolab.
"Ross McNutt has a superpower — he can zoom in on everyday life, then rewind and fast-forward to solve crimes in a shutter-flash," Radiolab's site says about the Persistent Surveillance Systems technology.
The Arnolds donated $360,000 to fund the program, and the planes were in the air by January 2016. They spent months circling Baltimore and collecting footage to be analyzed by McNutt and his team. But after Bloomberg Businessweek ran an investigative profile of the secretive aerial surveillance program as the cover of their August issue, Baltimore police faced severe backlash from the public, both local and national.
Both the Arnold Foundation and WNYC, which produces Radiolab, have not yet responded to Mic's request for comment.