2016 Election: These Senate races could determine who controls Congress' upper chamber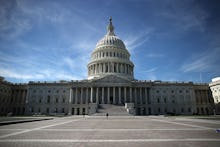 If Democratic candidate Hillary Clinton wins the presidency, she could find herself with a very welcome gift on Election Day — a Democrat-controlled Senate.
Several Republican senators up for re-election have been fighting for their political lives since Republican candidate Donald Trump fractured the party with his controversial campaign.
There are 34 Senate seats up for grabs on Nov. 8. Ten are held by Democrats and 24 are held by Republicans. Democrats need to pick up four seats to take control of the upper chamber of Congress.
And there's a strong indication of that happening. Up to seven Senate seats could go to Democrats, according to the Cook Political Report.
These are the Senate seats that are in jeopardy in the 2016 election.
Florida: Marco Rubio vs. Patrick Murphy
GOP Sen. Marco Rubio is fighting for his Senate seat in a tight race against Democratic Rep. Patrick Murphy. The RealClearPolitics average shows Rubio leading 46% to 43%.
Indiana: Evan Bayh vs. Todd Young
As GOP Sen. Dan Coats retires, Democratic candidate Evan Bayh, a former Indiana governor and U.S. senator, is leading Republican candidate Rep. Todd Young 45% to 41% in the RealClearPolitics average.
Missouri: Jason Kander vs. Roy Blunt
Jason Kander, a military veteran and Missouri's secretary of state, is effectively tied with incumbent Republican Sen. Roy Blunt, with RealClearPolitics pegging Blunt's support at 45% to Kander's 44%.
Nevada: Joe Heck vs. Catherine Cortez Masto
Republican Rep. Joe Heck is fighting to take over the seat being vacated by Democratic Senate Minority Leader Harry Reid. Heck is slightly trailing challenger Catherine Cortez Masto, Nevada's former attorney general, in the RealClearPolitics average. Heck nabs 42% support to Cortez Masto's 44%.
New Hampshire: Kelly Ayotte vs. Maggie Hassan
GOP incumbent Sen. Kelly Ayotte has been in a tough race against her Democratic challenger, New Hampshire Gov. Maggie Hassan, who edges Ayotte 46% to 45% in the RealClearPolitics average.
North Carolina: Richard Burr vs. Deborah Ross
Sen. Richard Burr, the longtime Republican incumbent, is in a tight race with his challenger, former state General Assembly Member Deborah Ross. Burr maintains a slight 45% to 42% lead, according to RealClearPolitics.
Pennsylvania: Pat Toomey vs. Katie McGinty
Katie McGinty, a Democrat and former environmental advisor during the Clinton administration, is giving GOP Sen. Pat Toomey a run for his money. She's averaging 43% support to his 45%.
FiveThirtyEight gives the Democrats a more than 70% chance of winning the Senate on Nov. 8.
Mic has ongoing presidential coverage. Please follow our main election hub as well as coverage of Donald Trump and Hillary Clinton.