Xiaomi Mi Mix or iPhone 8? This concept Android device will knock your socks off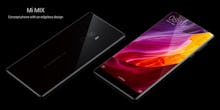 Chinese smartphone maker Xiaomi has revealed the concept photos of its new device, the Xiaomi Mi Mix, and it looks absolutely stunning. 
Xiaomi Mi Mix features and specs
The 6.4-inch model has a nearly bezel-less display with rounded edges that covers 91.3% of the phone's body. 
Such a large screen has prompted Xiaomi to re-imagine many of the typical features on a smartphone. The front-facing camera has been moved to the bottom (the display auto-rotates for selfies) and the earpiece has been replaced with a piezoelectric speaker that generates sound from the device's metal frame. 
Lastly, the device's proximity sensor has been replaced with ultrasound technology. 
Xiaomi may have just introduced the world to the future of smartphones, as no prior device has come close to flaunting a near bezel-free design. Many folks in the tech community anticipated a phone like this but didn't expect it till 2017. Apple's upcoming iPhone 8 is rumored to feature a similar aesthetic. 
9to5Mac published a report back in May that detailed a new Apple patent in the works:
The most accurate but least common finger-scanning technology is ultrasound imaging. In this type of sensor, two transducers are placed on the x- and y-axes of a plate of glass — one each for receiving and transmitting — for propagating ultrasound waves through a glass plate; when the finger is placed on top of the glass, the finger impedes the waves and the receiving transducer can measure the alteration in wave patterns. This type of scanner is very new and largely untested in a variety of conditions, but initial results show promise for the technology. It combines the large plate size and ease of use of the optical scanners with the ability to pervade dirt and residue on the scanner, an advantage of capacitive scanners.
Sound familiar? Apple's patent utilizes ultrasound technology just like Xiaomi. This is an especially important detail considering this new scanner would remove the need for a distinct Touch ID button which, in turn, frees up more space for a screen and could allow for a bezel-less display.
Perhaps it's just a coincidence, but Xiaomi may have just introduced what's essentially the iPhone 8 before Apple could do it itself. And though Apple would never admit to that, it's a devastating blow if true. Apple was evidently planning to cause a stir in celebration of the iPhone's 10th anniversary next year. 
Who knows, though? Maybe this coup merely pushes Apple to continue innovating new features for the iPhone 8. Otherwise, between the Xiaomi Mi Mix, the recently released Google Pixel and Samsung's upcoming Galaxy S8, Apple could find itself losing the smartphone war.