Nintendo Switch fans are obsessed with "Karen," the viral star of the new console trailer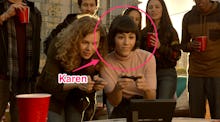 The latest subject of the internet's affection is "Karen," the unnamed woman in the reveal trailer for Nintendo's newest console, the Nintendo Switch. She's the one playing that mysterious new 3-D Mario game — only to be rudely interrupted by her friends for a social gathering on the rooftop of the building across the street.
You know, this woman...
...who then proceeds to show her friends all the fun she's having with her new Nintendo Switch:
According to Polygon, it all started with this post from Tumblr user joematar, who first named Karen. Joematar characterized her as someone who annoys the hell out of her friends by always forcing them to play video games with her.
Nintendo Switch subreddit moderators implemented a temporary ban on Karen posts
Apparently, this post sparked a whole slew of Karen memes, including the expected amount of "Same" and "I am Karen"-type posts. Karen memes became so popular on the Nintendo Switch subreddit that moderators had to implement a ban on all Karen content, which they dubbed the "Temporary Karen Rule." On a post pinned to the top of the subreddit that outlines the forum's rules, you'll find the following text:
Temporary Karen Rule
On said subreddit, you'll find a whole spectrum of Karen content, some of which is genuinely pretty funny:
And, some of which is a bit puzzling:
We may have gone too far down the rabbit hole with this Karen thing. Anyway, stay tuned to Mic for all the latest Karen memes, I guess?