Justin Timberlake may face jail time for posting this voting booth selfie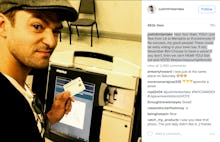 Justin Timberlake going to jail for a selfie is like Al Capone getting nabbed on tax evasion. 
After all the things the pop star has stolen or appropriated over his long career, that a simple Instagram snap may be the thing to ultimately take him down is hard to fathom. 
However, the selfie in question is no ordinary snap. It was taken Monday in a Tennessee voting booth in Justin Timberlake's hometown. "Hey! You! Yeah, YOU!" he wrote in the selfie's caption. "I just flew from L.A. to Memphis to #rockthevote !!! No excuses, my good people!" 
Great message, great single eyebrow lift. The problem is, as CNN reports, the state of Tennessee recently made it illegal for voters to snap photos or record conversations that take place in voting rooms. America's golden boy may soon have some dark marks on his criminal record. 
This specific bill, signed into law by Republican Gov. Bill Haslam, went into effect this year as a means to limit using "a mobile electronic or communication device" for "informational purposes to assist the voter in making election decisions." But it also prohibits people "from using the device for telephone conversations, recording or taking photographs or videos while inside the polling place," according to TN Report.
When asked for comment, the Shelby County District Attorney's Office told TMZ that Timberlake's case is "under review."
The selfie certainly comes during a very touchy time in this election cycle, with Trump's supporters already throwing around accusations of voter fraud before polls even fully open. It doesn't look like there is anything too suspect going on in Timberlake's picture. But at this point that's for the long, cold arm of the law to decide.
Mic has reached out to both Timberlake's team and the Shelby County DA for comment and will update if we hear back.