MacBook Pro 2016 leaked images reveal Touch ID, OLED display bar, slimmer body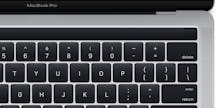 This is the new MacBook Pro, aka the MacBook Pro 2016. It's the laptop Apple is expected to unveil during its Oct. 27 event, along with new iMacs and MacBook Airs. The computer, which looks thinner and lighter, includes the rumored digital OLED display bar (aka the "Magic Toolbar") that changes function keys with each app, plus Touch ID with Apple Pay capabilities.
MacBook Pro 2016 features: Touch ID, flat keyboard, Apple Pay and more
Bloomberg's Mark Gurman spotted an updated hinge and flatter keyboard like what's featured on the 2015 MacBook. "Touch ID sensor appears to be the power button as well," he tweeted.
According to MacRumors, the update to macOS Sierra, 10.12.1, included "hidden Apple Pay images" that revealed the new design.
Looks like there's no escape key. How will we bring up the force-quit menu?
This story is developing.