Apple Event Oct. 2016: MacBook Pro and what to look for at Thursday's big announcement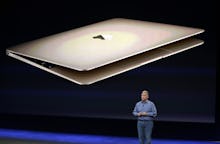 The final Apple event of the year kicks off Thursday, Oct. 27, and we already know what's coming: a revamped MacBook Pro. Just earlier today, leaked images of the new laptop surfaced and they all but confirm Apple's plans to unveil the new device. 
As prior rumors suggested, the MacBook Pro 2016 includes an OLED touch panel which supports Touch ID and Apple Pay, as evidenced from the image above. 
Not visible in the photo are the four rumored USB-C ports Apple is said to have added to the MacBook Pro. We'll find out the exact specifications of the laptop's hardware and software capabilities at the Apple event on Thursday.
But what else will Tim Cook and his team reveal? The media conference will surely include some other products as well. 
MacBook Air 2016 is a likely update
It looks to be a minor one, as a 13-inch model with 8GB of RAM rolled out earlier this year. Apple, however, is supposedly invested in those USB-C ports, and reports suggest the new MacBook Air is outfitted with them too. Predictions are divided on what sizes to expect, but some are saying the 11-inch model has officially been killed in favor of the 13-inch.
2016 iMacs are uncertain — but we might see a new iPad
Renowned Apple insider Ming-Chi Kuo does not expect to see a revamped iMac. "We also expect Apple to launch new iMacs (21.5-inch and 27-inch) and Cinema Display (27-inch) in mid-[first half of 2017]," Kuo wrote in a research report. "We cannot say for certain whether Apple will announce the new iMacs and Cinema Display on October 27, as the shipping schedule is not imminent."
That could be it for 2016 Apple products, though some suggest a new iPad model could make a wild card appearance. We wouldn't recommend getting your hopes up, but Apple could drop a bombshell surprise.
The Apple event can be watched via livestream on Apple's official website on Oct. 27 at 1 p.m. Eastern.