Diplo: "Everybody I know has debt"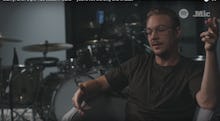 Student loan debt is crushing the American dream for the millennial generation. As of 2014, student loan debt has surpassed credit card debt. The average cost of a college education has rendered the graduates of 2016 the most indebted in history — some 44 million borrowers, each owing an average $37,172 of a total $1.3 trillion dollars. (Yeah, trillion.)
How can a generation saddled with so much debt find its way to a prosperous future? 
To bring you the facts that can help inform your 2016 election decisions, Mic and Spotify have partnered to bring you Clarify, a weekly audio and video series exploring the key issues in this election that matter most to young people. Hosted by best-selling author and former Daily Show producer Baratunde Thurston, Clarify features real conversations with policy experts, Mic journalists and some of today's hottest musicians, including Talib Kweli, Prophets of Rage, Vic Mensa and more.
For this episode, Baratunde talks with DJ and producer Diplo about his own experience with the student loan debt crisis in America.  
For more on issues like gun violence, immigration, civil rights and other critically important policy matters, watch and listen at Spotify.com/Clarify.