These are the states where Donald Trump is leading in the polls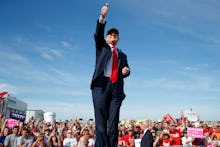 There's rarely been a political poll that Republican candidate Donald Trump likes — unless he's winning it.
After weeks of brushing off his opponent Democratic candidate Hillary Clinton's recent surge in national polls, Trump admitted on Monday that he is trailing behind just weeks before the Nov. 8 election.
Trump compared his position in the polls, where he's trailing Clinton by about five points, according to the latest RealClearPolitics average of national polls, to Brexit, the United Kingdom's vote to leave the European Union.
Leaders were confident that the U.K. would stay. They were wrong.
"I think we're going to have, you know whether it's Brexit or beyond Brexit, I think we're going to have a Brexit situation. You know, that one was behind in the polls. And I guess I'm somewhat behind in the polls but not by much," Trump told Charlotte, North Carolina talk radio station WBT. 
At any rate, here's where polling averages actually show Trump in the lead.
Alabama
Trump is leading Clinton by 30 points in Alabama, according to a recent Google Consumer Surveys poll. RCP rates the state as a safe one for Trump.
Alaska
Trump has led the few public polls to be conducted in Alaska, although the most recent shows him with only a three-point edge in the normally solid Republican state.
Arkansas
Clinton may once have been first lady of the state, but Trump has Arkansas in a lock, with a 57% to 31% lead, according to RCP.
Georgia
Trump is leading the polls in Georgia, but not by as much as a Republican candidate historically would be. According to a recent Atlanta Journal-Constitution poll, he has a two-point lead over Clinton, who trails by four points in the RCP average.
Idaho
Trump has had a double-digit lead over Clinton in Idaho. A recent Emerson College poll gives him a comfortable 29-point lead.
Indiana
Trump's running mate, Mike Pence, is the Hoosier State's governor, and the GOP ticket enjoys a 45% to 39% lead there, RCP finds.
Kansas
Recent polls give Trump a lead in the low teens.
Kentucky
Polling has been scant, but a survey released in August gave Trump a 13-point lead over Clinton.
Louisiana
Louisiana is with Trump. A recent poll by Mason-Dixon Polling & Research Inc. has him up by 20 percentage points.
Mississippi
Trump boasted a 52% to 39% lead in an August poll conducted by Magellan.
Missouri
Trump leads 47% to 40% in the Show Me State, according to RCP.
Montana
The latest Mason-Dixon Polling & Research Inc. poll shows with a significant lead in Montana. He's ahead of Clinton in that poll, conducted from Oct. 10-12, by 10 percentage points.
Nebraska
An Emerson College poll in September showed a 56% to 29% Trump lead.
North Dakota
Trump leads Clinton by 10 percentage points in North Dakota, according to a recent Google Consumer Surveys poll.
Ohio
The battleground state of Ohio is a toss-up. But RCP finds Trump ever-so-slightly ahead, with a 45% to 44% lead in the four-way contest and a 46% to 45% lead head-to-head.
Oklahoma
 A Sooner Poll in September showed Trump ahead 51% to 36%.
South Carolina
Trump is ahead of Clinton in the Palmetto State by a 47% to 39% margin, RCP finds.
South Dakota
According to a recent Mason-Dixon Polling & Research Inc. poll, Trump leads Clinton by seven percentage points.
Tennessee
Trump has held a steady lead in the polls in Tennessee. A recent Vanderbilt University poll has him leading Clinton by 11 percentage points, while a Middle Tennessee State University poll showed a similar 12-point Trump lead.
Texas
Trump is leading in Texas, but not by much. RCP calls the state a toss-up, with Trump at 44% and Clinton at 39%.
West Virginia
An August poll showed Trump up 49% to 31%.
Wyoming
A Google Consumer Surveys poll conducted from Oct. 15-19 puts Trump ahead of Clinton by 19 percentage points.
Even if Trump wins each and every one of these states, that would give him 189 electoral college votes — well below the 270 needed to win the White House.
Mic has ongoing presidential coverage. Please follow our main election hub as well as coverage of Donald Trump and Hillary Clinton.