Cher changes her tune on Kate Hudson's "pain in the ass" activewear brand Fabletics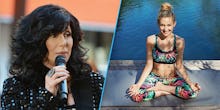 One of 2016's most contentious feuds may have finally found resolution.
Back in July, Cher fired shots at Kate Hudson's activewear brand Fabletics on Twitter, calling the online retailer "a pain in the ass" and likening her experience shopping there to "being conned."
The online retailer responded to her tweet, saying, "No con!" and explaining that the initial style quiz — the "pain in the ass" in question — is given in order to get an idea of what their customers like, then adding, "P.S. we love 'Strong Enough,'" a nod to the singer's 1998 single.
In summary: Cher is not a fan of Fabletics; Fabletics, meanwhile, is a big fan of top-notch '90s dance-pop. 
The end? Not so. On Tuesday evening, Cher took a break from tweeting about the AT&T & Time Warner merger and attending a scented jewelry party to crawl back up in Fabletics mentions. This time, she had praise, calling a pair of leggings from the brand "fun" (with a ghost emoji) and "spacey" (with a rocket emoji).
When a member of her #CherCrew requested pics, Cher declined, and also used it as an opportunity to throw a little shade, saying that the gear is "maybe a little sexy 4workout."
So while Cher might be down to slip into some free Fabletics gear, it seems uncertain — especially after the quiz brouhaha — whether she'll ever consider herself a loyal customer.
Mic has reached out to Fabletics for comment.