Lady Gaga gets behind the wheel in James Corden's latest "Carpool Karaoke"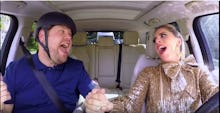 James Corden typically enlists the help of singers to give him directions to work in his "Carpool Karaoke" segments, forgoing a GPS. But on Tuesday's edition, it was Lady Gaga who got behind the wheel. That's because, in addition having a whole new batch of songs to perform off her latest Joanne, she only recently got her driver's license. 
While she's already learning basic driving etiquette for New York City — mainly, flipping the bird at other drivers — she's still getting a grasp for the road, which meant a nervous Corden took safety measures. 
"I don't even know if I feel safe in this environment," Corden said as he puts on a helmet. 
In between singing some of her biggest hits like "Bad Romance," "Poker Face" and "Born This Way," Gaga also talked about her impressive collection of Michael Jackson apparel. She says she has "at least 400 pieces" of clothing, including the iconic red jacket from Thriller. Though Corden was quick to question the veracity of the outfits. 
"I once bought every member of O-Town's t-shirts from a tour, and I've since found out Trevor, Jacob and Ashley have never even worn it," Corden joked. 
However, Corden did sport some seemingly authentic knockoffs of some of Gaga's most iconic fashion looks from years past, including her infamous meat dress from the 2010 Video Music Awards. But the smell emanating from the outfit didn't sit well with the singer in the tight confines of Corden's Range Rover. 
You can check out Gaga's Carpool Karaoke segment below: