Volkswagen ordered to pay $15B, the biggest auto scandal civil settlement ever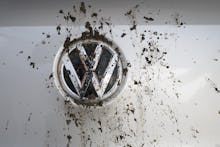 Automaker Volkswagen is on a rocky road to atonement for cheating on emissions tests, with a $14.7 billion civil settlement approved by United States District Court Judge Charles Breyer in San Francisco Tuesday. 
The settlement is the largest of its kind ever brought down on a carmaker. The misconduct? VW has owned up to installing software in certain diesel 2.0-liter cars engines that let the vehicles trick emissions tests — even though they were actually producing as much as 40 times the pollution permitted by regulators. 
The problem vehicles included the Beetle, Golf, Jetta, Passat and Audi A3, with affected models ranging from 2009 to 2015 — 11 million cars across the world in total. 
"Today is a landmark day, when this innovative settlement can be put into action, investing billions of dollars into public health protections to remedy these serious violations," the Environmental Protection Agency's Cynthia Giles said in a statement, according to Agence France-Presse.
VW has been ordered to pay $10 billion to cover the costs of fixing or buying back more than 470,000 cars in the U.S. Thus far, 340,000 car owners have registered for the buy-back program. Owners could receive between $5,100 and $10,000 in compensation.
The remaining $4.7 billion part of the settlement must be spent on green and environmentally-friendly projects and invested in infrastructure for clean emissions, such as electric car charging stations. 
"Final approval of the 2.0L TDI settlement is an important milestone in our journey to making things right in the United States, and we appreciate the efforts of all parties involved in this process," Hinrich J. Woebcken, President and CEO of Volkswagen Group of America, Inc., said in a statement released Tuesday. "Volkswagen is committed to ensuring that the program is now carried out as seamlessly as possible for our affected customers and has devoted significant resources and personnel to making their experience a positive one."
But VW's woes are far from over.
A suit is still ongoing regarding similar emissions-cheating software in the company's 3.0-liter diesel engines in some Porsches, Volkswagens and Audis. A criminal investigation is also underway.