Megyn Kelly did her job — and now Twitter is boycotting her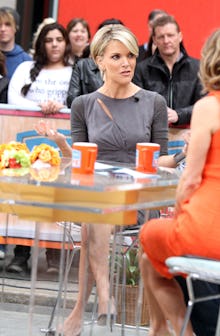 Fox News' Megyn Kelly is facing an angry Twitter mob threatening to boycott her — all because she said some factually accurate things on her show.
During Tuesday evening's episode of The Kelly File, Kelly dared to bring up the fact that Republican presidential nominee Donald Trump had both bragged about sexually assaulting women and been accused, by multiple women, of sexual assault. Her guest, Trump surrogate Newt Gingrich, blew up at her, accusing Kelly of using "inflammatory" language and being "fascinated with sex."
Now, Kelly — who, before this election, had a reputation for being staunchly right wing and willing to turn a blind eye to the sins of the GOP — is facing a boycott from Trump supporters accusing her on Twitter of being "biased," "nasty," and — worse — "a liberal."
The thing is, Trump is facing sexual assault allegations — that's the truth. The Republican candidate was also heard on tape bragging about grabbing women's genitals without their consent, which is sexual assault. Those things really happened, and Kelly saying them aloud makes her neither biased nor liberal. 
Trump supporters can throw a fit and threaten a boycott, but that just won't change the facts.