Hillary Clinton Birthday: A look at the ageist attacks the candidate has faced in 2016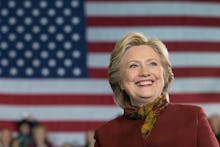 Republican candidate Donald Trump is older than his opponent Democratic candidate Hillary Clinton, who turns 69 on Wednesday, but that hasn't stopped him from waging borderline ageist attacks against her.
She will spend her birthday at two separate get-out-the-vote rallies in the battleground state of Florida. Her husband, former President Bill Clinton is scheduled to be at three rallies in North Carolina urging Americans to vote early.
Ronald Reagan was the oldest president elected in United States history. He was just weeks away from his 70th birthday when he took office on Jan. 20, 1981. If Trump is elected, he will be already be 70 years old on Inauguration Day. He turns 71 on June 14.
Donald Trump's attacks on Clinton's age
Despite being a year older, Trump has leveled many barbs against Clinton about her age and her health during the 2016 election.
In August, he questioned Clinton's ability to fight the Islamic State because of her health.
"To defeat crime and radical Islamic terrorism in our country, to win trade in our country, you need tremendous physical and mental strength and stamina," he said during a speech in Wisconsin. "Hillary Clinton doesn't have that strength and stamina."
As massive flooding hit Louisiana in late August, Trump made a campaign stop in Baton Rouge. He posted a tweet implying that Clinton wasn't making a visit there because she was "sleeping."  
Rudy Giuliani
Former New York City Mayor Rudy Giuliani, who is a top Trump surrogate, went on Fox News Sunday to tell viewers to look up Clinton's health problems.
"Go online and put down, 'Hillary Clinton illness,' and take a look at the videos yourself," he said.
Clinton suffered a concussion after a fall at her home in Chappaqua, New York, in 2012 when she was secretary of state.
Katrina Pearson
One of Trump's senior advisors Katrina Pierson claimed that Clinton suffers from dysphasia, a language disorder caused by brain injury, based on a television interview where Clinton was seen shaking her head among a gaggle of reporters.
"What's new are the other reports of the observations of Hillary Clinton's behavior and mannerisms, specifically with what you just showed in those previous clips, as well as her dysphasia, the fact that she's fallen, she has had a concussion," Pierson said, according to the Washington Post. "It's something that needs to be addressed. She's taken a lot of time off the campaign trail."
Clinton's health
There have also been reports that Clinton has a bad back and needs pillows when she sits and help walking up stairs. Others claim that lumps under her jacket are a defibrillator.
Clinton's health problems came to light when she was attending a memorial service in lower Manhattan for those lost in the Sept. 11 terrorist attack. She abruptly left the ceremony, with aides saying she was feeling dehydrated. Video footage showed her nearly fainting and being ushered into an SUV. Later, she revealed that she had been diagnosed with pneumonia.
A few days later, her personal physician released a letter that she is "healthy and fit to serve as president of the United States."
During the first presidential debate on Sept. 26, Clinton shot back at Trump's claim that she doesn't have the "stamina" to be president.
"Well, as soon as he travels to 112 countries and negotiates a peace deal, a cease-fire, a release of dissidents, an opening of new opportunities in nations around the world, or even spends 11 hours testifying in front of a congressional committee, he can talk to me about stamina," she said, according to a transcript by the Los Angeles Times.
Clinton has also made light of the controversy surrounding her health issues.
At the Alfred B. Smith Dinner in New York City last week, a longstanding charity event and politician comedy roast, she joked about Trump's criticism over her ability to handle the rigors of the White House.
"This is such a special event that I took a break from my rigorous nap schedule to be here," she said, according to a transcript by Time magazine.
Mic has ongoing presidential coverage. Please follow our main election hub as well as coverage of Donald Trump and Hillary Clinton.