A comprehensive guide to every Donald Trump controversy of the 2016 general election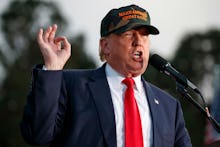 Donald Trump has run the most controversial presidential campaign in modern history. Trump has insulted most voter demographic groups, argued the United States should have a different role in the world and ignored accepted norms about democratic elections. 
With just days left until the election, Hillary Clinton is hanging onto a modest polling lead over Trump — a lead that may or may not be threatened by the new focus on her emails. Surveys suggest that is because of the nearly continuous scandal Trump's campaign has been in since he accepted the Republican presidential nomination in July. 
To contextualize Trump's underdog status, Mic has tracked past and ongoing Trump controversies that affected the campaign since the July convention.
How has Trump alienated women? 
Several recent polls show Clinton holds a lead in the double-digits over Trump among female voters. Surveys have shown a majority of voters believe Trump's statements about women are relevant to the presidential race. A recent CNN/ORC poll found 60% of voters believe how Trump treats women "is an important indicator of his character and ability to serve as president." 
Why do voters believe this is relevant?
Because in October at least 11 women accused Trump of sexual assault and misconduct. Trump says they are liars and he will sue them.
Because in a 2005 video released by the Washington Post, Trump can be heard saying he grabs women "by the pussy" and sexually forces himself on women. Trump dismissed this "locker room banter" as words, not actions.
Because Trump called Clinton a "nasty woman" in the final presidential debate, which became a rallying cry for the supporters of the first female presidential nominee. 
Because Trump has repeatedly critiqued the weight of Alicia Machado, a former Miss Universe, and went on a 5:30 a.m. Twitter rant about Machado's opposition to his campaign. "It's indicative of a long-standing pattern of offensive comments Trump has made about women's looks and their character" on Twitter, Mic's Emily Cahn wrote at the end of September. 
Here is an excerpt from that piece: 
Mic combed through Trump's Twitter feed to find the most egregious instances of his sexist attacks. They provide a good look at Trump's treatment of women over the past few years — in addition to other sexist comments he's made in media appearances, such as the time he and radio shock jock Howard Stern discussed how "vagina is expensive" in 1997. 
Because the Republican presidential nominee, in the opinion of medical professionals, butchered the characterization of abortions, how they happen and when they occur. "These statements are so far away from medical fact it's hard to interpret what he could have meant," an obstetrician and gynecologist told Mic after Trump's comments. 
How has Trump insulted minorities? 
Trump questioned whether a judge of Mexican descent, born in Indiana, could effectively adjudicate a legal case against Trump University. Trump's basis for saying Judge Gonzalo Curiel had a conflict of interest? His Mexican heritage. (In early August, after the Republican convention, Curiel effectively guaranteed the case against Trump would go to trial.)
After Trump visited with the Mexican president, some thought he was softening his stance on immigration. The Republican put those rumors to rest in an Aug. 31 speech that doubled down on his plans to build a wall and deport people living in America illegally. "To put it another way, rumors of a Trump pivot have been greatly exaggerated," Mic's Tom McKay wrote at the time. McKay also noted:
In addition to criminals, Trump stated, enforcement priorities would include those undocumented immigrants relying on public services supposedly meant for U.S. citizens: "Those who abuse our welfare system will be priorities for removal."
During an immigration tirade in the final presidential debate, Trump said the U.S. has "some bad hombres" who illegally immigrated into the country and have committed crimes. 
Trump frequently refers to the state of America's "inner-cities." He has cited high numbers of shootings in Chicago as evidence that Democratic politicians have failed to help blacks living in those communities. In August, during a rally in Michigan, Trump appealed to black voters by saying, "What do you have to lose?"
After the Democratic National Convention, Trump chose to pick arguably the least winnable fight possible: He insulted the Muslim American parents of a soldier who died in Iraq in 2004. Khizr and Ghazala Khan, the parents of Army Capt. Humayun Khan, appeared onstage at the convention and criticized Trump. The Republican hit back by questioning whether the Khans' religion kept Ghazala from speaking. (She said she was too aggrieved to speak.)
Support for Trump among nonwhite voters is slightly higher than where it was for Mitt Romney in 2012. In a race against America's first black president, Romney won 17% of the nonwhite vote. Trump may build on that return. Recent polls give him 25%, 20% and 17% support among minorities. But Clinton's lead among women, and Trump's failure to hold Romney's 17-point margin among white voters, gives her a clear advantage among key groups of voters.
What other turmoil has there been in Trump's campaign? 
The New York Times revelation that Trump may not have paid federal income tax for nearly two decades hurt him with some voters. 
Reporting by the Washington Post revealed that Trump's foundation may have broken New York state law around charitable giving and possibly used foundation funds illegally. And the Post showed the foundation may be little more than a way for Trump to funnel the money of others to charitable causes in his name.
A few weeks after the Republican convention, Paul Manafort resigned as the chairman of Trump's campaign. In his place, Trump brought on pollster Kellyanne Conway and Breitbart chairman Stephen Bannon to lead the campaign's final march to Election Day.
Mic's Celeste Katz and Luke Brinker reported in August:
While Manafort hoped to steer Trump to victory over Democratic nominee Hillary Clinton, Trump's plunge in the polls following a series of incendiary remarks contributed to the nominee's shake-up of his campaign this week. Trump promoted pollster Kellyanne Conway to campaign manager and brought on Steve Bannon, a Breitbart News executive, to serve as CEO of the campaign.
The takeaway
These are only a sampling of the problems Trump has inflicted upon himself over the past few months. Surveys have shown some of them have had little impact on his poll numbers. But other polls have shown a drop in support for Trump after some of these controversies, especially among women. 
Nov. 1, 2016, 3:17 p.m. Eastern: This story has been updated.