Why don't millennials vote as much as older generations? Blame institutional road blocks.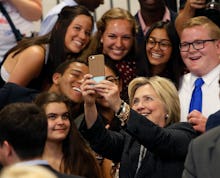 If only millennials voted, Hillary Clinton and the Democrats would win in a landslide of historic proportions.
But, luckily for Donald Trump and the Republican Party, millennials aren't the only voters in 2016. In fact, they are among the least likely to vote, according to historic data and polling of this year's electorate.
Still, experts say the Millennial generation shouldn't be singled out as lazy or apathetic. The youngest generation in a voting population has historically always voted at the lowest rates.
And experts chalk that fact up to institutional barriers that make it harder for young generations to both register and find the time to vote.
Kei Kawashima-Ginsberg, director of Tufts University's Center for Information and Research on Civic Learning and Engagement, says voter registration and voter ID laws are some of the biggest barriers for younger voters to get to the polls.
Younger voters, who are more transient than older voters, often struggle with where to register to vote or how to keep that voter registration up to date.
"A county clerk might ask a student whether they really are a resident of a community by asking for a utility bill or apartment lease, which students aren't necessarily going to be in possession of by living in a dorm," Kawashima-Ginsberg said in a phone interview.
She added that millennials in particular are less likely to drive or have driver's licenses than previous generations, which is problematic for those voters in states with new voter ID laws that require them to show a valid identification to vote.
And even for millennials who are properly registered to vote, finding the time to get to the polls could prove harder for them than for older generations, who often have more flexible schedules or no schedules at all in the case of retired Baby Boomers.
Younger voters may have inflexible work schedules, and may prioritize getting to work on time or getting their kids to childcare over heading to their polling place.
"Young people, who are usually in the beginning of their career life, often have much less flexible schedules than older voters," Kawashima-Ginsberg said.
Despite the documented reasons for why millennials are not the highest propensity voters, the age group has come under fire for their voting behavior this year.
When polls showed Trump closing the gap with Clinton in September, pundits said apathetic millennials who don't turn out to vote could be to blame.
Yet experts said the Millennial generation is not much different in their turnout percentages than other generations were at the same age range of 18 to 24.
Census data bears that out.
Voting rates for Americans aged 18 to 24 have always been lower than older generations. In fact, younger voters in Generation X saw a significant voting drop in the 1996 and 2000 elections, lower than the millennial voting rate in 2012.
"The youngest voting bloc of any generation have voted at a much lower rates than older voters," Kawashima-Ginsberg said. "When we compared whether this generation is unique in terms of the turnout patterns ... they haven't shown to be very different."
Still, Clinton's campaign is working hard on millennial outreach.
Her campaign has been holding registration events on college campuses, and is hosting voter mobilization concerts in key swing states with popular artists such as Jay Z and Katy Perry.
And polling shows millennials' contempt for Trump could spike turnout among the age group in 2016.
According to a new poll from the Harvard Institute of Politics, 49% of 18- to 29-year-olds say they will definitely vote in 2016 — one point higher than in 2012.
"Young voters are fearful about the future of America, and that is moving them to action," Harvard Institute of Politics Polling Director John Della Volpe said in a news release.