Body-shaming pageant owner issues non-apology after Miss Iceland exits competition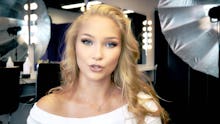 If Miss Iceland wanted a thoughtful apology from the beauty pageant owner who told her to stop eating, she's not going to get it.
Yesterday, Mic reported on Nawat Itsaragrisil, the Thai TV presenter and owner of the Miss Grand International beauty contest accused of attempting to force a contestant to lose weight for the competition, which took place on Tuesday evening in Las Vegas.
Miss Iceland Arna Ýr Jónsdóttir penned an open letter, which she posted on her Instagram, addressing Itsaragrisil directly.
"Your staff told me that i had to lose weight for the finals because I have [too] much fat on me and also [too] big shoulders," she wrote. "They told me to eat less and then you would like me more."
She also alleged Itsaragrisil had his spokespeople tell her her to "stop eating breakfast" and "eat just salad for lunch."
Now, a day after the news made international headlines, Itsaragrisil has addressed the controversy in a written statement sent to Mic. In the letter, Itsaragrisil takes little accountability for Jónsdóttir's accusations.
"She may be a little bit fat and they recommended her, in good way, to try to lose some weight in order to improve her chance to win," Itsaragrisil wrote, suggesting that Jónsdóttir specifically sought out feedback on her weight.
He continued: "This is normal process for the three weeks during the pageant, everyone should show their improvement. Similarly the staffs give the same advice for others who asked them what should they do to improve in order to win which each of them would get different advice and no one have any problems and are trying their own way to improve."
Itsaragrisil went on to mention an "incident" in which Jónsdóttir allegedly showed him photos from her previous international pageants. 
"To me ... she looks slimmer and more beautiful, which I do not understand the purpose, as what we are looking in the competition is the present — not what she used to look like." 
At no point in Itsaragrisil's letter — which never addresses Jónsdóttir by name — does he take ownership of his actions as being anything less than professional. Nor does he acknowledge the torment induced by body shaming an individual. He doesn't touch on the very real ramifications that words like these can have or offer any sort of apology. There is no mention of regret, only blame.
Meanwhile, Jónsdóttir is using her experience to speak out against body shaming. On Wednesday morning, she posted a video on Instagram addressing the surrounding controversy that has swelled in the days since she announced her exit.
"I wasn't sad when I got these comments," she says. "And so many fans are saying 'Arna, you're not fat, don't be sad.' The thing is, I'm not sad, I just wanted to grab this opportunity to stand up for myself, for women in this world, for young girls, and let them know that it is okay to be who you are."
"And it's okay to get comments and to say 'No, I'm not going to take this comment seriously,'" she continued. "Because if you like how you are, you should tell it, just say 'I'm going to be like who I am' and that's why I did quit, because I like how I look. Then no one can tell me how I should look."
This year's Miss Grand International winner, Indonesia's Ariska Putri Pertiwi, was crowned on Tuesday evening. Meanwhile, Jónsdóttir — like the queen she is — was more than likely chilling in Vegas, enjoying the "good food."