California man charged with a hate crime for anti-Sikh attack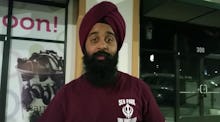 The Kern County district attorney office has filed hate crime charges against a man after he allegedly threw a drink and yelled racial slurs at a Sikh man in Bakersfield, California, according to the Los Angeles Times. 
Balmeet Singh was on the phone outside of a pizza restaurant at about 7:40 PM on Sept. 30, when the man, David Hook, approached him. According to a video Singh posted on Oct. 3, Hook, whom Singh identified as white, shouted, "So you're going to blow up this country. You're trying to blow up this country?" before hurling his drink at Singh's face.
Singh goes on to describe how Hook continued to accost him and eventually threatened his life, saying, " I should fucking kill you right now."
David Hook has been charged with two misdemeanor counts of battery and hate crime. Prosecutors told the Los Angeles Times that Hook threw his drink because, "he appeared to be of a different religion or race." Hook could face up to a year in jail and a fine if he's convicted.
Singh took to YouTube to describe the encounter in vivid, horrific detail and to offer a reminder that who we vote for on November 8 matters deeply.