'Overwatch' Halloween: Players call for a permanent PvE horde mode — could it happen?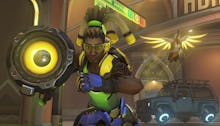 The reception to the Halloween-themed Junkenstein's Revenge mode in Blizzard's multiplayer shooter Overwatch has been largely positive, such that many on the Overwatch subreddit are calling for a similar mode to become a permanent part of the game.
Is it possible? We consider the evidence.
Overwatch's Halloween mode has been well-received.
Junkenstein's Revenge is quite a shift from the meat of the normal game. It's PvE, not PvP — meaning "player vs. environment" rather than "player vs. player." Junkenstein's Revenge puts four players on a cooperative team as they fight against increasingly difficult waves of computer-controlled enemies.
It's important to note that there already is a permanent PvE mode in Overwatch, but it's more than underwhelming. It's structured just like a normal Overwatch match — in which two teams of six go head-to-head — but the team controlled by AI basically just bee-lines for the objective point and doesn't really use the kind of strategy that makes Overwatch matches thrilling.
However, the sheer volume of enemies in Junkenstein's Revenge — combined with the mode's Halloween-y flavor — is what makes it so fun. 
So, could PvE happen?
Overwatch director Jeff Kaplan said "no" to a PvE mode — but there's still hope.
In an interview with Game Informer published in April, when Overwatch director Jeff Kaplan was asked about adding a PvE mode, he said, "I think we're all dying to explore PvE at some point, but not for this game. Not for the initial offering of Overwatch, which is really focused on the team-based hero-action combat. So it's something we'd like to get to someday in a different game."
Despite Kaplan's unambiguous statement that Overwatch would remain focused on PvP, it's already proven to be a bit untrue with the addition of Junkenstein's Revenge. Despite it being a temporary Halloween-themed mode, it's surprisingly fleshed out, complete with brand-new enemies and a modified version of the Eichenwalde map.
Additionally, Kaplan repeatedly states in interactions with fans that Overwatch's future is always in flux, saying things like "some of this stuff might not happen" when discussing new features Blizzard is working on. So, it very well may be that the opposite is also true. If there's enough feedback from the community that a PvE mode like Junkenstein's Revenge should be a permanent staple of Overwatch, it's possible!