Ariell Johnson, first black woman to own an East Coast comic store, on new Marvel cover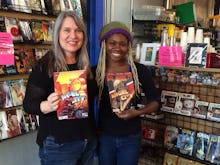 In December 2015, 33-year-old Ariell Johnson took two of her passions — reading comic books and drinking coffee — and joined them into one business: Amalgam Comics & Coffeeshop. When Johnson opened the doors to the Philadelphia fixture, she became the first black female comic book store owner not just in the city, but on the entire East Coast.
"I was hyperaware that comic books are dominated usually by white men, but when I was creating the store, I wasn't really thinking about myself [or] about being first," Johnson told NBC News in January. "I was more so thinking about wanting to create a space that celebrated diversity."
Hosting events like a talk back on season one of Netflix's Luke Cage and a Q&A with Ta-Nehisi Coates' on his Marvel series Black Panther, Johnson has made clear her mission to center marginalized voices in the comic book world. 
Now, that world is giving her props in the most fitting way it can: by drawing her into it. In November, one of the variant covers of Invincible Iron Man #1 will feature Johnson laughing over coffee with Riri Williams, the new black teen heroine at the center of the series.
The cover, illustrated by Randy Green, is a sign of progress for Johnson, According to ABC News. Johnson reportedly remembers Storm, from the X-Men series, being the first black woman she ever laid eyes on in a comic book — over a decade after she had started reading comics.
"When you are a person of color, you're scraping the bottom of the barrel to find someone you can identify with," Johnson told the outlet. "I always felt like I was watching other people's adventures. Being introduced to Storm was a pivotal moment for me because had I not come across her, I might have grown out of my love for [comics]."
In the predominantly white, male world of comic books, Johnson says her shop will always be open to girls and people of color who share her passion.
"Women exist in this space!" Johnson told ABC. "We've always been reading comic books, we just may not have been as open about it."