The MacBook Pro 2016 is here — it's lighter, thinner and "extreme"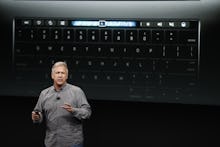 Apple just confirmed what we already knew: there's a new MacBook Pro in town, and it's "extreme," according to Apple marketing chief Phil Schiller.
MacBook Pro 2016 features
The new laptop unveiled at Thursday's Apple event features an OLED touch display panel with a retina display and functionality for Touch ID and Apple Pay. In addition, the new strip — which Apple calls the Touch Bar — can be used for various apps and programs with corresponding commands, depending on the function. For example, Safari displays your most visited websites, music can be controlled on iTunes or photo editing apps can straighten images directly from the Touch Bar. 
MacBook Pro 2016 design
That's not all that's new about the revamped MacBook Pro: the all-metal aluminum body is thinner, lighter and features 4 Thunderbolt 3 USB-C ports which are compatible with a variety of functions such as power, USB, or HDMI. The bezels have slimmed down and the device's speakers now rest on either side of the keyboard, rather than beneath. The typical escape button on the top left side of the keyboard has been removed.
MacBook Pro 2016 specs
The 15-inch MacBook Pro 2016 flaunts a Intel Core i7 processor and 16 GB memory; the 13-inch has an option for Intel Core i5 or i7 and 8 GB memory. Apple says the display is 67% brighter and displays 25% more color. Each machine has a 64MB eDRAM graphics card, which Apple says is twice as fast as the previous generation. The embedded speakers also have twice the dynamic range for audio. As with each generation, battery life received an upgrade — Apple says its new MacBook Pros will last 10 hours now. 
As exciting as the MacBook Pro reveal is, it certainly isn't a surprise. Rumors regarding the device's new features circulated for months, and Apple's plans were blown open on Tuesday, when images revealing the new MacBook Pro with a touch panel were spotted in the system files of the macOS Sierra 12.1 update.
MacBook Pro 2016 price
Regardless of what happened, it's been four years since Apple's flagship laptop line underwent a major overhaul. The MacBook Pro 2016 is here now and available for a price of $1799 (13-inch) or $2399 (15-inch). There's also a new 13-inch MacBook Pro without the Touch Bar — it has an Intel i5 processor, 8 GB of memory and two Thunderbolt ports, rather than four. Essentially, this edition of the MacBook Pro is replacing the MacBook Air as the default entry level model at $1499.
Apple says all three are available for purchase immediately, though it will take the two Touch Bar models two to three weeks to ship.
Oct. 27, 2016 2:16 p.m.: This story has been updated.