Hiring trained homeless people as cooks can be a major payoff for the food industry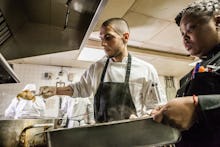 Too many cooks in the kitchen? Right now New York City and several other cities nationwide are going through the opposite problem. 
But the dearth of cooks means an opportunity for some nonprofits that have quietly expanded the talent pipeline by training former inmates and homeless people to become cooks. 
Case in point: Project Renewal, a nonprofit whose goal is to end the cycle of homelessness. Since 1995, the nonprofit's Culinary Arts Training Program trains former homeless people (many of whom have a history of addiction and are now in shelters or rehab) how to enter the food industry, Stephanie Cowles, deputy director of Project Renewal, said in an interview. 
For six months, participants are taught basic cooking techniques and also complete an internship at a local restaurant or catering company. 
More than 1,858 participants have graduated from the program, and roughly 72% of CATP graduates are placed in jobs, Cowles confirmed in an email. 
"We are governed by the New York Board of Education," she said, explaining that report cards, attendance and additional structure help CATP hold its students accountable. 
To restaurants, "we send the very best people that we feel are really stable that have had long sobriety under their belt," she said, explaining that the restaurant kitchen culture of late nights, drinking and drugs can be tough for people in recovery. A national survey on drug use and health revealed more than 19% of workers in food services had used illegal drugs in the past month; the food service industry has the highest rate of substance abuse disorder compared to other industries. 
CATP places many graduates with catering companies or executive catering companies. Cowles noted several people now work at American Express and Morgan Stanley. 
Nevertheless, graduates have been placed at high-profile restaurants like Del Posto, Per Se and a couple restaurants in Brooklyn. 
Melissa Rodriguez, chef de cuisine at Del Posto, oversees three graduates of CATP, the Wall Street Journal reported. Calvin Williams is one such employee — the 52-year-old Army veteran found himself selling drugs, incarcerated and addicted to heroin before he became a student in Project Renewal's CATP. 
But whether at a restaurant or a catering company, graduates of CATP who hold down jobs are going to be better off employed than unemployed. Having a job and an income are critical for breaking the cycle of homelessness, Cowles explained.  Notably, one study found that access to employment significantly decreased the likelihood that formerly incarcerated people will commit future crimes that lead to more jail time. 
Is this a win-win for improving the food industry while reducing homelessness? 
Restaurants suffer when they lack quality cooks, Alice Cheng, founder and CEO of Culinary Agents, an online networking site for hospitality jobs, said in an email. Some restaurants have even resorted to simplifying dishes due to the shortage of knowledgable cooks, the New York Times reported. 
Cheng said increases in restaurant openings, other food-related jobs that offer different lifestyles, and other types of hourly, entry-level jobs have contributed to the cook shortage. 
Can restaurants benefit from graduates of CATP and similar job readiness programs? "In theory, yes," Cheng said, explaining that the programs should not "impose risk to the restaurant and its current employees." 
Culinary Agents collaborates with a slew of restaurant job readiness programs including DC Central Kitchen, Food and Finance High School, LA Kitchen, Community Servings, Community Food Bank of New Jersey and the Hospitality Institute at Miami-Dade College. "We are constantly adding more," she said. 
To combat the cook shortage, Cheng noted that the industry could benefit from proactively addressing employee retention or offering access to structured learning opportunities. Eliminating tipping and restructuring pay could also minimize the shortage. (Phasing out tipping is commonly meant to raise wages for "back of house" workers like chefs, dishwashers and cooks, the Atlantic reported.) 
On the whole, Cheng was positive about the restaurant industry accepting formerly homeless people as cooks: "The restaurant industry is a welcoming one," she said. "It's one of the few industries who would embrace hard-working and loyal people regardless of their past or personal situation."