EpiPen is about to get a potentially cheaper competitor: Auvi-Q hits shelves in 2017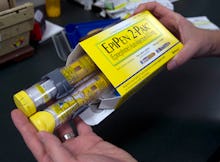 People with severe allergies — and those who care about them — just got some good news.
First, the backstory: The price of life-saving EpiPens has increased by 400% in less than a decade, prompting scrutiny of the pharmaceutical firm, Mylan, that makes the device. EpiPens are used to automatically inject epinephrine, aka adrenaline, into the thigh of a person suffering a severe allergic reaction — like someone with a bee venom allergy who has been stung by a bee.
Mylan's dominance in the epinephrine pen market has made the life-saving drug difficult to access, particularly for lower-income patients, one reason members of Congress have recently criticized the drugmaker.
But Mylan will soon lose its virtual monopoly in the market: In 2017 competitor Kaléo Pharmaceuticals will start selling Auvi-Q, an alternative to the EpiPen. 
Auvi-Q was recalled in 2015 by its former producer, drug company Sanofi, over concerns Auvi-Q was releasing insufficient amounts of epinephrine. 
But Kaléo cofounder and one of Auvi-Q's inventors Eric Edwards claims this will not be a problem with the reintroduced device: The current production involves a "100-point quality control inspection" to check dose consistency.
The Food and Drug Administration approved Auvi-Q in 2012 and was not involved with Sanofi's voluntary recall.
Kaléo has made pricing a major selling point in their announcement about the new Auvi-Q release.
"We understand that price is central to this conversation," Kaléo CEO Spencer Williamson told the New York Times. "We believe that patients should be able to obtain the product without insurance barriers or high out-of-pocket costs. That's our focus."
Promising message aside, it's not yet guaranteed that the new-and-improved pen will be cheap.
Auvi-Q actually cost more than the EpiPen when it was last on the market, and Kaléo has yet to announce exactly how much the company will charge for it this time.