The 10 most livable cities in America are walkable, fun, and full of opportunity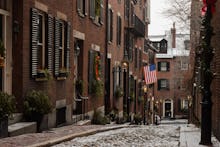 What makes a city a great place to live? How about safety, or affordability — so you don't need a roommate, or culture, with lots of attractions for young creatives?
Surprise! Walkable, affordable Jersey City — New York City's honorary 6th borough, by some accounts — tops the list of the most "livable" cities in America, according to a new study by personal finance firm SmartAsset.
The study looked at the biggest 93 cities in the country and ranked them on several factors: Winners had the best blends of high walkability, low violent and property crime rates, low unemployment rates, high incomes relative to housing costs and high population density — which means greater access to restaurants, groceries, shops and services.
Compared to other states, California shines in livability: It is the most represented state on the list, with eight of its cities in the top 25.
Here are the 10 most livable cities in the United States, per SmartAsset's formula.
10. (tie) San Francisco, California
Yes, San Francisco is known as an expensive city to live — but that's offset by high median incomes: After annual housing costs, a typical resident still has more than $38,000, one of the highest figures on the list.
City residents have to watch out for crime, but San Francisco is also ranked near the top among cities for walkability and density — which is one reason there is plenty to do: San Francisco is known for high quality of life and as a top city for foodies.
10. (tie) San Jose, California
Tying with San Francisco is nearby San Jose. While San Francisco ranked especially high for walkability and income (and not as well for crime), San Jose is more consistent — ranking in the upper half of the list across all measures.
If the city's easy vibe isn't enough, come for its amazing Monopoly game set, the largest in the world. 
9. Fremont, California
Fremont, in the Bay Area of northern California, feels a world away from much-loved Irvine, California, south of Los Angeles and number two on this list — but these two Cali cities have a lot in common: They are both coastal cities with relatively low crime rates, similar unemployment rates, and great walkability.
Fremont boasts diversity and plenty of food and entertainment options, including a Little Kabul restaurant district and a Bollywood film theater.
8. Madison, Wisconsin
What would a livability list be without Madison? It's known as a great college town — and for having the least-stressed out residents.
This Midwestern center also has a relatively low unemployment rate, at 5.8%, and healthy income after housing: $27,133 on average.
7. Boston, Massachusetts
If you're looking for rock-bottom crime or unemployment rates, Boston isn't your city. But the urban center is among the most walkable nationwide — and very affordable relative to incomes: Residents have an average of $34,058 left each year after paying for housing — second only to those in Jersey City. 
Bean Town is also known as a major cultural center, thanks to universities, arts, history, much-loved sports teams — and lots of new development.
6. Irving, Texas
What makes Irving, just outside of Dallas, so livable?
Try, a relatively low unemployment rate among cities — and a healthy average $30,494 in income left over after paying for housing. There are a few major companies based in Irving — including ExxonMobil and Kimberly Clark — which helps support jobs.
5. Honolulu, Hawaii
Tropical Honolulu has the lowest unemployment rate of any place in the study, at 5.3%, and the city is known as one of the best in the U.S. for foodies.
To be fair, housing costs are high; but Honolulu does not disappoint with good schools, great views, and an enviable climate.
4. New York, New York
Before you dismiss the Big Apple as less than livable, remember that New York is the densest and most walkable city in the country. 
That means it is packed to the gills with fun stuff to do: Arts, culture, adventure, sports teams, food and more. And it's known as one of the top places for millennials who are launching their careers.
Crime is also much better than it once was. New York has the third-lowest property crime rate of the cities surveyed.
3. Plano, Texas
Your money goes far in Plano, with $30,949 on average left over after paying for housing. It is not super walkable, but does boast attractive walking and biking trails.
The city is known for being safe and for low unemployment — only 5.9%. Toyota's arrival in Plano has been a boon for jobseekers.
2. Irvine, California
Irvine came out just shy of number one, missing just a few walkability points that helped Jersey City win.
But Irvine is super safe, with a bright economic outlook: The city has the lowest rates for both violent and property crimes in the study.
And that famous California traffic? It isn't so bad in Irvine, where the Irvine Traffic Research and Control Center works to control the flow.
1. Jersey City, New Jersey
Jersey City ranks as the most livable city in the U.S., the study found, in great part thanks to high density, great walkability, and the third-highest average income after housing cost: $35,452.
Being across the river from Manhattan means residents can work in (and reap the higher incomes of) New York City while paying way less than New Yorkers for housing and food. And across the Hudson in Jersey City there's plenty to do — and eat and drink.
As the city's Reddit page says, "Jersey City: Come for the rent, stay for the community."