De La Soul and D.R.A.M. heading to Ohio to encourage young people to "Show Up and Vote"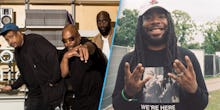 Monday, arguably the biggest name in mainstream hip-hop, Jay Z, announced his plans to headline a concert to try to drive young people to vote for Hillary Clinton in Cleveland. Now, for Ohio's backpack hip-hop heads there's a non-partisan version of a similar voter drive set to go down across the state in Columbus.
Golden age hip-hop crew De La Soul and happy-go-lucky rap god D.R.A.M. will be headlining a voter mobilization concert, alongside Chord Overstreet, Nick D' & The Believers and the Ford Hayes Metropolitan Education Center Band, at Express Live in Columbus, Ohio, on Friday, Oct. 28. The free event is being hosted by Global Citizen, in partnership with iHeartMedia, as part of their "Show Up and Vote" campaign to encourage early voting. 
It follows a similar voter drive held in Las Vegas on Tuesday that featured performers Vic Mensa, Madame Gandhi, Justine Skye and iAMDLOW. Global Citizen has one more concert scheduled for Nov. 3 in Orlando, Florida.
Global Citizen's presence in the election is a somewhat unexpected one, as the organization generally focuses on global poverty goals. However, as CEO Hugh Evans explained in a statement, domestic action is inextricably linked with global action:
"As we have seen around the world, non-participation in the electoral process represents a serious threat to the notion of citizenship at home and abroad. Global Citizen is excited to get out and mobilize young people in key states to use their voice."
De La Soul seems excited by the opportunity as well. The crew is not known for being first and foremost a political outfit, however, they've never shied from speaking to issues of race or income inequality throughout their catalog.
"We're excited to be playing Columbus on Friday, October 28th and encouraging young Ohioans to get out and vote," De La Soul said in a quote provided to Mic. "Young people around the country have the power to decide this election. De La Soul is proud to be a part of this campaign and to use our voices to remind others to use theirs." 
Check out the event details here.