Tabloids mistake Janet Jackson's $1300 Adidas Y-3 poncho for "full Islamic dress"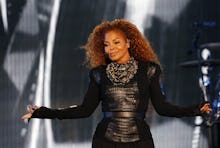 A pregnant Janet Jackson stepped out in London earlier this week sporting an oversized poncho, or as the Mirror head-scratchingly referred to it, "full Islamic dress." 
As one Twitter user pointed out, someone needs to tell the Mirror that Jackson's 'Islamic attire' is actually an Adidas men's poncho.
But they weren't the only ones. "The 50-year-old pop star was carefully wrapped in a hijab — with some fans shocked to see her sporting traditional Islamic dress," noted the National Enquirer. And it wasn't just bottom-feeder tabloids: International Business Times wrote a very similar headline.
Jackson, who has been noticeably reclusive throughout the last decade, is in fact wearing a $1285 Adidas Y-3 wool poncho sweater — a statement piece, sure, especially in contrast to Jackson's longtime image as a flesh-baring sex symbol.
But to call her outfit "Islamic dress" is to assume one out of many possible meanings for the outfit. After all, she is not wearing an abaya, or any other article of clothing more directly linked to Muslim people. Jackson's attire could more accurately be described as modest dressing — a style not limited to the Islamic faith only.
"All I saw was a full-black, modest outfit, but it's definitely not a native Islamic dress," said Ikhlas who runs the popular blog, The Muslim Girl. "With that being said, her outfit isn't un-Islamic either. For many Muslim women, especially those of us living in the West, we choose to be modest through our Western clothes. That means long skirts or loose pants, long tops with full sleeves, etc. And this is exactly what Janet Jackson is wearing, which means that her outfit is modest."
So is this anything one might deem offensive? According to Ikhlas, not so.
"I don't see anything wrong with [these headlines] nor did I find it offensive," she said. "As someone who has been in the spotlight before based on her clothing (or lack thereof), it's not surprising that Janet Jackson's dramatic change of style would cause headlines. It's something that is unusual to see on a celebrity, especially one who had been known for her provocative dress, so it makes sense that it would cause a media frenzy or confusion."