Presidential Polls Tuesday, Oct. 26: If the election were today, who would win?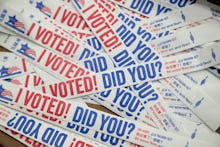 There are just 13 days left until the presidential election and many Americans wish it was over already.
While several states have already begun early voting, it won't be until Nov. 8 that we know whether Democratic candidate Hillary Clinton or Republican candidate Donald Trump will be the next president of the United States.
But who would win if the election were held today?
FiveThirtyEight currently gives Clinton about an 82% chance of winning the White House. The latest RealClearPolitics average of national polls puts Clinton ahead of Trump by 4.4 percentage points in a two-way matchup, and the site shows Clinton with a consistent lead in enough states to total 272 electoral votes to Trump's 126. It takes 270 electoral votes to win the presidency.
Among young voters, Clinton also wins by a large margin.
FiveThirtyEight also predicts Clinton will win the popular vote, 49% to Trump's 44%.
Even with Clinton's steady lead in recent weeks, the election could prove closer than expected.
"About 15% of the electorate isn't yet committed to Clinton or Trump, as compared to just 5% who weren't committed to President Obama or Mitt Romney at this point in 2012. That's one of the reasons why our models still give Trump an outside chance at victory," FiveThirtyEight's Nate Silver wrote.
Despite his anemic performance in the latest national polls, Trump isn't giving up.
Mic has ongoing presidential coverage. Please follow our main election hub as well as coverage of Donald Trump and Hillary Clinton.