Halloween TV specials 2016: The best shows and movies to watch on Halloween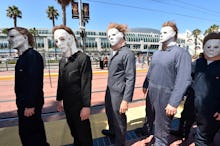 If you're not planning to go outside on Halloween, and you don't want to constantly get up from your couch to feed insatiable children dressed as ghouls, vampires and Ken Bone, you can still satisfy the Halloween spirit on your television. 
Networks will be airing Halloween specials from the likes of sitcom specials, creepy dramas and classic horror films, giving prospective binge-watchers plenty of options for classic Halloween fare. Here are a few we'd recommend
Halloween (1978), AMC
One of many horror films in AMC's annual FearFest event, the actual day of Halloween is, fittingly, reserved for the Halloween franchise. There's a lot of (mostly bad) sequels to the original Halloween film that will also air, but John Carpenter's 1978 classic is far and away the best of the bunch. 
If you're only going to watch one, make sure you catch moviegoers' first glimpse at the horrifying Michael Myers. The original Halloween will air on AMC at 2 p.m. and 10 p.m. Eastern. 
Stan Against Evil, IFC
In what's essentially Ash vs Evil Dead — but instead of Bruce Campbell you have John C. McGinley as a protagonist — IFC's new show Stan Against Evil has an entertaining conceit. The old-school sheriff (McGinley) in a small town has to teach his young replacement how to handle the ins and outs of the job. 
The problem? They have to take care of unleashed demons — 172, to be exact. Stan Against Evil technically doesn't air until Nov. 2, but a special preview of the first episode will be available on IFC at 11 p.m. Eastern. 
The Odd Couple, CBS
Reviews have been unkind to Matthew Perry's sitcom, but perhaps a Halloween-themed episode will bring some life to the series. Oscar (Perry) will be tasked with taking Charlotte's (Teri Hatcher) son trick-or-treating, which is sure to go wrong. 
The Odd Couple's Halloween episode, "I Kid, You Not" airs at 9:30 p.m. Eastern on CBS. 
13 Nights of Halloween, Freeform 
Freeform's 13 Nights of Halloween is basically the kid-friendly answer to AMC's FearFest, so if you're looking for a more PG-oriented Halloween related binge, it's a good call. For Halloween day, viewers will be treated to the likes of The Goonies (7 a.m.), The Addams Family (5 p.m.) and Hocus Pocus (9 p.m.). 
Despite the early start time, we highly recommend The Goonies. 
Honestly, anything scary on Netflix or Hulu
One of the best parts about streaming services like Netflix and Hulu is that you're afforded the chance to watch anything, anytime. Unsurprisingly, there's no shortage of compelling horror movies on both sites, including the only horror film that's even won an Oscar for Best Picture: The Silence of the Lambs (on Hulu). 
Whatever your preference is — even if it's something along the campy lines of the Sharknado franchise — you'll have some tempting streaming service options on Halloween.