Tokyo Comic-Con just banned men from dressing up as women at their event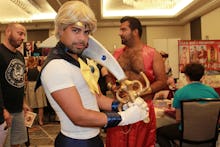 Dressing up as your favorite comic book, film, anime or cartoon character is one of the great joys of going to a Comic-Con event. Unfortunately, for the upcoming Tokyo Comic-Con, that joy now has a gendered limit on it. 
Tokyo Comic-Con's official website, which is only available in Japanese, has officially banned men from dressing up as women at the event in December, according to the RocketNews24.
"Men dressing as women is prohibited," the official site said, according to RocketNews24's translation.
The rule against cross-gender cosplay (sometimes called "crossplay") stands right next to some other rules like no swords and no photography in changing rooms. The comic exhibition also doesn't seem to have a rule banning women from dressing up as men.
Japan is a country with a long tradition of men dressing up as women. RocketNews24 even pointed out that their own reporter Yoshio crossplayed at San Diego Comic-Con in 2014 as Sailor Moon. 
Tokyo Comic-Con did not immediately respond to a request for comment.