6 Vince Staples lyrics that detail racism, police brutality with devastating clarity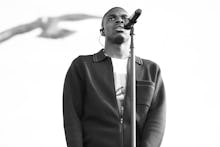 All it took was tears from one white, Christian woman to put Vince Staples at the center of the controversy surrounding the explicit nature of rap lyrics.
"This is on our local radio station, this crap is being played," a self-proclaimed Christian mom said in a rant, discussing the lyrics to Staple's "Norf Norf," which went hugely viral earlier this month. "I couldn't even believe the words that I was listening to, and as a mom, it infuriated me. ... Obviously the cuss words were bleeped out, but I'm not stupid. Like, we can dictate what they're saying."
The strangest part of the whole ordeal, which only added to the internet's mirth and evisceration of the video, is that Vince Staples' lyrics are actually some of the more nuanced reads of inner city inequality and the cultures of violence that take root there. 
"The woman in that video is clearly confused on the context of the song which causes her to be frightened," Staples wrote on Twitter responding to the video. "This misunderstanding of our community leads to miscommunication which we should convert into a progressive dialogue."
What that suggests is Staples' lyrics deserve a deeper dive than most casual listeners give them. There's a reason why he's been able to draw some of hip-hop's finest beatmakers into his corner. He's able to draw out stellar critiques of our culture's lingering systematic racism, which shows its face in widely publicized instances of police brutality and discrimination. 
Here are six of his best that offer a glimpse at how difficult it is to sum up the depth of his art in one short, emotional 11-minute video. 
1. "Hands Up"
Deangelo Lopez and Tyler Woods
The two young black men Vince Staples names were both killed by police under uncertain and, in Woods' case, shifting circumstances. He brushes off their deaths with an eerie nonchalance that matches the way cases like this seem to be at the top levels of certain police departments. "I ain't seen them lock a swine up yet," Staples raps. "At the most they reassign 'em to prevent protest." It's a reality we've faced time and time again.
2. "Lift Me Up"
Hey, I'm just a nigga until I fill my pockets
Right out of the gate on Staples' most recent studio full-length Summertime '06, Staples acknowledges how his art and his person are bound to be misunderstood. He nods to the habit of luxury stores profiling black costumers and the fact that white musicians regularly gain notoriety far quicker than black musicians. Look at any of the criticism surrounding Adele and Sam Smith's appropriation of blue-eyed soul, or the whitewashing of rock history, and the picture Staples is trying to paint will become clearer. 
3. "Summertime"
My teachers told me we was slaves
On the album's title track "Summertime," Staples looks back to his time in school and the different ways he was taught history at home and at school. He tries to wrap his mind around both, but falls short. "I guess we somewhere in between," he says in one of the most resigned and plaintive moments on the LP. 
4. "Like It Is"
We live for they amusement like they view us from behind the glass
Over a sparse beat that's little more than a metallic screeching sound, Staples breaks down one of Summertime '06's most confrontational themes — that the hip-hop industry often commodifies black death for a passive audience. He discusses it in detail on several songs and adds a visual element in the "Señorita" video, where the rapper walks through a Mad Max-styled hood before reaching a glass wall, behind which a white family watches happily.
5. "Smile"
I turned my back on my friends
Vince delves even deeper into the black-death-as-pop-fascination quotient on Prima Donna, his latest EP. The rapper discusses the pressures of fame, and the contradictions surrounding the fact he's managed to build a career out of telling gangland stories. On "Smile" he talks leaving the gang banging of his upbringing only to find himself still "pissed on" and looked down upon the same way he was as a kid.
6. "War Ready"
Heaven, Hell, free or jail, same shit
It's been discussed by innumerable rapper before, but it bears repeating: the school to prison pipeline and the for-profit prison system look a lot like sharecropping when you consider how they operate. "County jail bus, slave shit, same shit," as Staples raps. It's one of the many painfully sardonic reasons Staples is always "War Ready."