Halloween Parade NYC 2016: Route, map, start time and more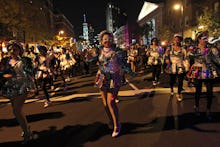 For a quintessential New York City Halloween experience, the right choice — and really the only choice — is to participate in the annual Village Halloween Parade. 
NYC Halloween parade route
Running along Sixth Avenue from Spring Street to 16th Street, the parade is in its 42nd year and is still going strong as one of NYC's spookiest spots for Halloween.
Since you'd be hard-pressed to find anyone cutting any corners on their costume, you shouldn't either. Whether you're among the over 60,000 marching down Sixth or the nearly 2 million spectators looking on from the sidelines, according to the parade's official site, going all out is key. 
NYC Halloween parade start time
Those looking to flaunt their costumes should line up at Canal, Sullivan or East Broome streets at Sixth Avenue any time between 6:30 p.m. and 7 p.m., when the procession departs, according to Time Out. 
The story of the Village Halloween Parade is one of humble beginnings. In 1974, mask maker and puppeteer Ralph Lee started the tradition as a typical door-to-door affair with the children of the neighborhood, according to the site.
After the second year, the Theater for the New City caught on, growing the popularity of the Halloween parade until eventually the Village Halloween Parade took on a life of its own, becoming the "largest celebration of its kind in the world."
How could you miss out on that?