Former GOP congressman suggests armed revolution if Donald Trump loses the election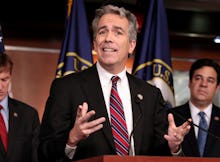 Former U.S. Rep. Joe Walsh, an outspoken Illinois Republican, suggested on Wednesday that he would take up arms and start a revolution if Donald Trump loses the election on Nov. 8.
"On November 8th, I'm voting for Trump," Walsh tweeted. "On November 9th, if Trump loses, I'm grabbing my musket. You in?"
A number of Trump supporters have threatened revolution if the bombastic businessman loses to Hillary Clinton next month.
Earlier in October, Republican vice presidential nominee Mike Pence chided a woman who said she wanted to start a revolution if Clinton won.
In a video interview at a recent rally, another Trump supporter threatened to assassinate Clinton if she were to win.
But Walsh's comments take the incitement to violence to a whole new level, as he is an elected official-turned-radio show host with a following.
However, this isn't the first time Walsh has used violent rhetoric on Twitter.
In July, after the deadly police shooting in Dallas, Walsh declared "war" on "Black Lives Matter punks," saying, "Real America is coming for you."
The heated rhetoric and threats of violence have even caused some schools to close on Election Day, fearing for the safety of their students.
Ironically, Walsh had tweeted his disapproval of school closures over fear of election violence just hours before he said he was going to take up arms if Trump lost.
Twitter pilloried Walsh for his remarks.
"Who are you man, freaking Davy Crockett?" one user named Mark Murphy tweeted.
Others started to tag the FBI, ostensibly to tip them off about Walsh's call for violence.
Walsh has always been a controversial figure.
He was first elected to Congress in the 2010 tea party wave, and swept out two years later after news came out that he had missed more than $117,000 in child support payments.
His opponent at the time, Democratic Rep. Tammy Duckworth — now running for Senate in Illinois — painted him as a "dead-beat dad."