Stephen Colbert gives Newt Gingrich 'the talk' after disastrous Megyn Kelly interview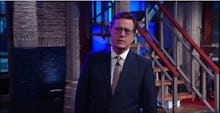 In another monologue breaking down Donald Trump's crumbling presidential campaign, The Late Show host Stephen Colbert turned his attention to some of Trump's biggest defenders for their farcical logic. This included "former speaker and talking bag of laundry" Newt Gingrich, who was widely criticized for an interview with Megyn Kelly in which he suggested the Fox News anchor is "fascinated with sex" for bringing up Trump's many allegations of sexual assault. 
Gingrich's logic was that Kelly was more focused on sex than public policy, which Colbert found a tad paradoxical. 
"First off, everybody is more fascinated with sex than public policy," Colbert said. "If you're not, there's a pill for that now." 
But as Colbert explains, Kelly wasn't talking about sex: She was referring to allegations of sexual assault. Therefore, Colbert posited, if Gingrich isn't aware of the difference, he's never had 'the talk.' So Colbert was up to the task, taking some time out of his show to address Gingrich directly. 
Colbert's talk, in full:
Newt, sweetheart, you're growing up so fast. In fact, you're 73. Your body's changing. You've probably noticed some strange new hair growing on your earlobes. It's perfectly natural ... You see, when a man has special feelings for a woman and he wants to give her a special hug, he asks her a special question: 'You up?' But grabbing a lady because you're a TV star is not sex; it's assault. And, fun fact, assault is a matter of public policy because it's illegal — even if you use Tic Tacs.
Watch Colbert's segment on Trump and his defenders — and Joe Biden's stinging response to the real estate mogul — from Wednesday's episode of The Late Show below.