'Before the Flood' Online Livestream: Where to watch Leonardo DiCaprio's new doc for free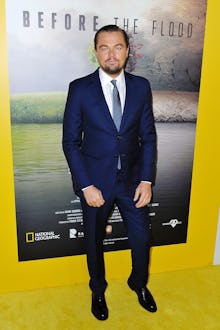 Actor Leonardo DiCaprio's new documentary, Before the Flood, takes a hard look at the impact climate change will have on the planet and what the global society needs to do to save Earth's ecosystems. 
Directed by Fisher Stevens — who you might remember as the pharmacist in The Night Of or as Ben Jabituya in Short Circuit — the documentary features DiCaprio, Bill Clinton, President Barack Obama, John Kerry and Elon Musk. It hit theaters in limited runs in New York City and Los Angeles on Oct. 21, but if you missed it, or don't live in either of those cities, you can stream Before the Flood online Oct. 30.
How to watch Before the Flood online
In addition to being broadcast on the National Geographic Channel, the full 93-minute documentary will be streamed for free on National Geographic on Oct. 30. Until that date, the site hosts a placeholder video featuring DiCaprio explaining the film. 
The film will also show on YouTube, Facebook, Hulu, iTunes, Twitter, Amazon and Google Play from Oct. 30 to Nov. 6.
The film comes out just days before the 2016 presidential election — an election that could dramatically change the planet, depending on who ends up in office. Before the Flood takes a look at what the future could look like if our planet gets any worse for wear.