Wednesday's presidential polls: Cherry pick your news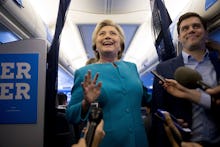 Wednesday's presidential polls had something for everyone.
Supporters of Republican presidential nominee Donald Trump could point to a Bloomberg poll showing him ahead in Florida, as well as a handful of other surveys that showed him eating into Hillary Clinton's lead.
Meanwhile, Clinton backers had a handful of surveys that showed the Democratic nominee with a double-digit lead over Trump.
But as supporters of either candidate cherry pick the polls that give them comfort in the final 12 days of the race, one thing remains constant: Clinton holds a substantial lead and remains the heavy favorite after Wednesday's polling dump.
After Wednesday's polling dump, Clinton leads Trump by an average of 5.4% in the RealClearPolitics four-way national polling average. That's far higher than President Barack Obama's 1% lead over GOP nominee Mitt Romney on this same day in 2012.
National polls released Wednesday showed everything from a Clinton lead of 3%, according to a Fox News poll, to a 14-point lead in an Associated Press-GfK poll.
The new bevy of polling has led to a "Trump is tightening Clinton's lead" narrative.
However, data shows that while Trump is gaining support — up to the low 40% range from the high 30s in early-mid October — Clinton has also gained support, from the low 40% range to the mid 40s in the same time period.
Similarly, in the battleground states needed to cobble together the 270 Electoral College votes needed to win, Clinton's firewall still holds strong.
She leads in polling averages in Pennsylvania, Florida, North Carolina, Nevada and New Hampshire. Without winning every single one of these states, Trump has absolutely zero path to victory.
And new polling from Pennsylvania out Thursday morning has more ominous news for Trump, after a New York Times/Sienna College survey found him down 7 points to Clinton in a state his team had vowed to put in play.
That lead is bolstered by Clinton's strong support in Philadelphia and the Philadelphia suburbs, which erased any gains Trump made from working-class whites in the state, according to the poll.
In all, the polling out Wednesday was good news for Clinton — especially given that voters are already voting in many of the states where she holds a lead. That could give her an insurmountable margin going into Election Day. We'll be watching over the next 12 days to see if that changes.