A Cleveland Indians fan wore a really offensive costume to Game 2 of the World Series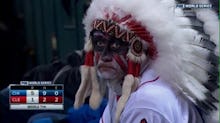 Game 2 of the World Series was Wednesday night, and while Cleveland Indians fans were probably upset their team lost to the Chicago Cubs 5-1, others were offended for an entirely different reason.
Controversy over the Cleveland Indians team name and logo is nothing new, but one fan took it to the next level by donning a war bonnet and face paint to the game. 
An image of the fan, who looked forlorn due to his team losing, was splashed on millions of people's television screens during the game broadcast on Fox. He was swiftly called out on Twitter.
As indigenous people have explained constantly, dressing up in headdresses and other traditional native clothing for Halloween or any other occasion is offensive.
In Canada, activists have been hitting back at "Indian" Halloween costumes, placing warning labels on the packages.
As for the Cleveland Indian's name and mascot, the MLB commissioner and team owner will be discussing the issue post-season.