'Black-ish' Season 3, Episode 5 Recap: It's a neighborhood purge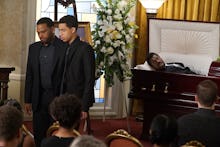 After enduring a week without Black-ish, the Johnsons return with Halloween on their mind and absolute destruction in their hearts. Weeklong absence does tend to make the heart grow fonder, but it really does help that this week's return, "The Purge," is an exceptionally funny episode of the show. 
A large part of that stems from the fact that it's the type of Black-ish episode that fully embraces the weirdness of the series and the Johnson family's inner circle, which is always a good thing — especially when it doesn't have to contend with having to anchor itself to anything too story-driven.
In fact, while there's almost a message in this episode of Black-ish about fathers and sons (or sons and fathers, even), the show ultimately backs away in order to achieve peak comedy potential. It's much purer than an attempt to teach a lesson while simultaneously working as an an infomercial for Disney World, at least. The A-plot is a prank war, and the B-plot being an ABC-friendly adaptation of The Purge (which could easily be mistaken for a documentary). There's really not much else to it — and that's not necessarily a bad thing. 
After giving the obligatory opening voiceover on "the animal kingdom" and the relationship between father and son, Dre (Anthony Anderson) spends the entire episode getting back at Junior (Marcus Scribner) for dunking on him in a game of one-on-one basketball.
The previous episode, "Who's Afraid Of The Big Black Man?," is a Black-ish installment for the ages because of its clear message and perfect humor. But "The Purge" is just fine as straight-up sitcom fare. It's the Halloween episode, and it already goes above and beyond the call of holiday-themed network television duty, much like Dre goes way above the call of fatherly prank duty. It's his role as the "Prank King" — which the episode reminds us of with season one footage — that becomes the most important part. It immediately leads to a "prank" death of Charlie (Deon Cole). That's not normal, and it's not even a little grounded in reality. And it's great. 
"Ghost" Charlie, who truly can't tell whether he's alive or dead, is much better than the Charlie who doesn't know what Microsoft is. The plot itself is the rare Black-ish story that truly relies on the visuals more than the dialogue, especially when it leads to a frightened Junior falling down a flight of stairs. It's so much funnier than it sounds out of context — just like the voiceover when Rainbow (Tracee Ellis Ross) talks about all of the unprofessional things she had to do to help Junior prank Dre back.
It's the titular purge plot that inspires the best laughs just from dialogue, though. After the previous episode featured her casual racism in front of Dre, Johnson neighbor Janine (Nicole Sullivan) remains the picture of white suburban ignorance this week with her own Beyoncé-bee Halloween costume, complete with "bronzer" that she's quick to say isn't blackface. But the character's best moment in this episode — and really, she peaks early — comes in the form of her interaction with Ruby (Jenifer Lewis):
Ruby: "A neighborhood purge! I'm Ruby, by the way."
The episode acknowledges that this is actually their first meeting, and in true Black-ish form, it turns that meeting into a situation black people (not just women) know far too well, one which involves an inexcusable need to touch someone else's hair and leaning in to do so before getting a yes or no. It's all inevitably in service of the episode turning Janine's neighborhood-sanctioned Mischief Night into the purge from the movie The Purge due to the sheer force of Ruby's will.
So now this year's Halloween is co-opted even more by Ruby's push for a purge, as she compares it favorably to the Watts riots and also makes Diane (Marsai Martin) happier than she's ever been ("I've dreamed of purging"), outside of her mortal enemy Charlie's fake funeral.
Ruby is sometimes a hit or miss character, but the characters' absolute detachment from the real world aspects of this episode thanks to the nature of Halloween makes her land much heavier on "hit" this week. And love or hate the character, there's no denying that Jenifer Lewis' line delivery makes every single thing that comes out of Ruby's mouth pure comedic gold. It's part of why she's the one character who can actually get away with starting a neighborhood purge, even though Molotov cocktail-wielding Diane would love to say she has that type of power.
In short: Black-ish is great.