Pussy Riot's "Make America Great Again" imagines the horrors of a Donald Trump presidency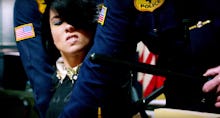 More than most other artists and activists, Pussy Riot knows totalitarianism when they see it, and they know how to face it. Members of the punk art and activist project, including Nadya Tolokonnikova, the woman who's gradually become the face of that movement, spent a year and a half in a Russian prison for their art from March 2012 to December 2013. In their latest video Tolokonnikova imagines going through those tortures all over again — this time under a Donald Trump presidency.
Pussy Riot released a new video Thursday, "Make America Again," their third of the week after "Organs" and "Straight Out of Vagina," which also targeted Trump. The group also announced a new EP Xxx, out Friday, housing the three tracks. Their latest, appearing as the EP's opener, paints a dramatic dystopian view of the first days of a Trump presidency, and all of the nightmares that would come with it. 
The video opens with videos of anti-Trump protests being broken up by police. Pussy Riot's Tolokonnikova is seemingly captured and brought before a Trump police tribunal. The singer also appears as one of her captors, wearing different makeup.
After looking at her passport and seeing Tolokonnikova is a Russian, Trump's secret police brand her for being an "outsider."
She's moved through various stages of the new Trump justice system where she's further branded for being a "fat pig" for not measuring up to Trump's ideal beauty standards, and a "pervert" for not valuing traditional family structures.
Later still she's branded between her legs for being a woman who "made an abortion."
"The point was to show that Trump's words are not just words," Tolokonnikova told Time, explaining the video. "Those words lead to violence, which is why they were burned into my body." 
The song's chorus offers a brief counterpoint to the ongoing madness of the video, offering a very different pathway towards making America great again:
Let other people in
In her brief interview with Time, Tolokonnikova also offered a warning to all those who think that there's no point in voting in this election, or those that think the choice between the lesser of two evils is no choice at all.
We already have a macho president in Russia. We don't need a world where the American president is also a macho. ... I think a lot of people who supported [Bernie] Sanders and now refuse to vote for Hillary, they are making the same mistake that a lot people in Russia are making. They sit around waiting for the arrival of a messiah who will make everything alright. But that's not how it works.
Check the tracklist for Xxx below and watch the full video for "Make America Great Again."
1. Make America Great Again